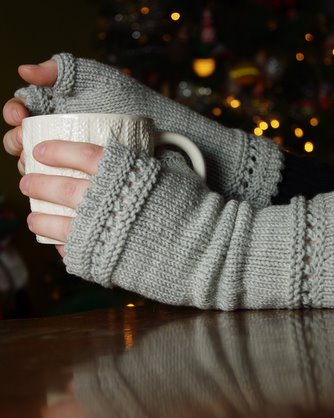 Project Specs
Pattern: Susie's Reading Mitts by Janelle Masters
Pattern source: Janelle's Blog or The Dancing Ewe Yarns and Teas
Finished Size: 9.75" long, 3.5" across hand when not worn
Yarn: 79g (200 yds) Sublime Extra Fine Merino Wool DK, Shade 0010
Needles: US6 Clover Bamboo DPNS
Date started: 12/14/08
Date completed: 1/2/09
Modifications: Went up a needle size to achieve gauge
See them on Ravelry!

Last month during my visit home I came across this pattern while shopping at The Dancing Ewe in Ellensburg, WA. I knew these mitts would make the perfect project to break up all the Christmas knitting I had been doing, and I have to admit, I was really ready to make something for myself!
The pattern originally calls for Cascade Cloud 9, but since I always end up sneezing like crazy whenever I work with angora I picked up some Sublime Extrafine Merino DK instead. I'm really glad I decided to use a yarn that's new to me. I loved working with the Sublime. It's super soft, and even though I expected it to be a little splitty with all the plies, it wasn't a problem at all with my bamboo DPNs. The color is also the perfect heather gray, and the finished mitts are so cozy and comfy they remind me a little of my favorite gray sweatshirt.

It probably was a crazy idea to start something right in the midst of my gift knitting, but this pattern made for the perfect airplane knitting. I was able to finish up the first mitt on my plane ride back from Washington. Even though I didn't get to finish my other mitt until a couple of weeks later, it was nice to have this little gift for myself after the Christmas craziness was over. I really love them, and because my most worn knit this winter has been my Juniper Mitts I know I'll get a ton of use out of these fingerless mitts as well.
This pattern was previously only available from The Dancing Ewe, but Janelle just added it as a free pattern to her blog! Thanks, Janelle! So, if you're looking for a great quick knit to kick off 2009, definitely check it out. I've already made a second pair from Malabrigo Silky Merino as a gift, but I'll wait to show those off until after they arrive at their destination.