Wow, to say the last few weeks have been crazy here would be an understatement! We had a blast when family came to visit at the end of May, and then things have gone a bit downhill from there. First Camdyn and I got the flu and then food poisoning. To top it all of, Thursday night Camdyn rolled off her bed in her sleep and after a midnight trip to the ER and a few x-rays we found out that she broke her collarbone. So far it's been hard for both of us to adjust to her special needs at the moment, especially Cam, who is so used to running, jumping, and playing! Knitting has been pretty nonexistent this month, but I was able to pick up the needles for a quick and fun project a couple of weeks ago.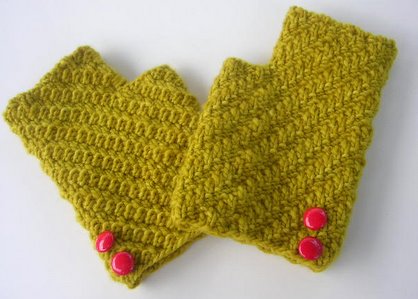 Project Specs
Pattern: Juniper Mitts by Jennifer Adams
Pattern Source: Nutty Irishman Knits
Yarn: 47 g Malabrigo Merino Worsted in Frank Ochre (102 yds)
Size Completed: Large, but knit at a smaller gauge
Needles: US 6 Clover Bamboo DPNs
Date Started: 6/10/08
Date Finished: 6/12/08
Extras: Four 1/2" bright red buttons, La Mode Style 43677
See them on Ravelry!

First, if you haven't seen Jen's new pattern head on over and check it out. She has some gorgeous pictures up on her blog that really show how awesome this pattern is—and the setting is absolutely amazing as well! I loved Jen's design the minute I saw it. You guys know I am a mitten junkie, but honestly I can count the number of days that I can wear mittens here in Las Vegas on one hand. On the contrary, fingerless mitts will be perfect for our winters and I can't believe I hadn't made myself a pair before!
The pattern calls for a tweedy yarn, but I decided to knit these using some Malabrigo from my stash. This pattern really is a great stash buster and perfect for those partial skeins of Cascade 220 or Malabrigo you might have leftover form other projects. I could also see knitting these from something super special—like cashmere. They'd be luxurious and you'd only have to buy one or two skeins.

The Malabrigo is, of course, divinely soft. I'm not so sure if this color is totally me. I don't wear yellow too often but I decided that these really could be a fun pop of color in the middle of the winter. To make it even more fun I chose some shiny red plastic buttons for the cuffs. I know they'll make me smile when I'm wearing these mitts while typing on the computer or having my morning cup of coffee outside. If I'm not feeling quite as bold out in public, the cuffs can always be tucked inside the sleeves of my jacket.
I have to be honest; I love these mitts but it is so hard to even imagine weather cold enough to wear them at the moment! We're in the midst of that couple month period when the temperatures outside are around 110 degrees. Even with the A/C on inside it's hard to get in the mindset to knit! I'm hoping that I can push through a couple UFOs I have sitting around here and knit up something special for Camdyn. I have so much blog reading to catch up on, so if you've seen or knit anything special lately I'd love to hear about it! Seeing the hundreds of unread blogs in my reader is overwhelming me :)