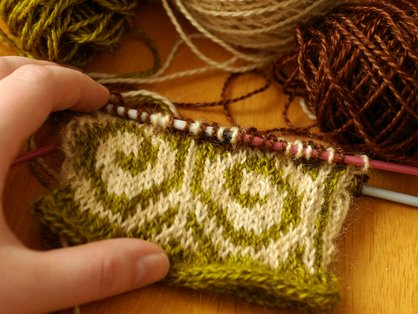 So I finally started my Fiddlehead mittens yesterday! I had put them off for so long because I was nervous about not being able to do this kit justice. These mittens will only be my second stranded colorwork project ever, and I really want to make sure that they turn out as pretty as Jen's, Alice's, and the other ones I've seen online.
Just like Alice and Jen I've been having issues… I'm knitting the largest size which calls for the mittens to be knit on size 5 needles. Although my gauge is pretty close to perfect, the stitches look sloppy and loose. I think this gauge is just a bit too big for this yarn, so I am going to rip it all out and reknit them on 3's. In the end I think that I'd rather have a mitten that is a bit on the tight side than one that looks messy.
Other than the sizing issues, I really like the charted pattern and it is really easy to knit. Since my size 5 DPNs were being used for another project, I tried out the two circular needle method of knitting in the round. This technique was really simple, but it does take some getting used to. The best thing about it is that you don't have to worry about tension problems in the middle of your work that switching from needle to needle sometimes creates. It's a really convenient technique that I know I'll be trying more in the future!
Now I'm off to rip whatever progress I had made on these mittens and restart them. Hopefully the second times a charm!