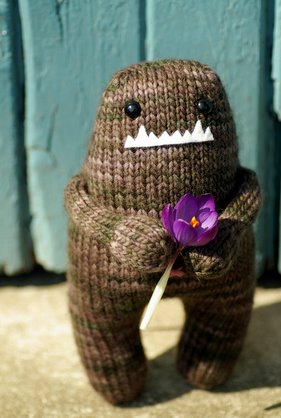 Project Specs
Pattern: Maddox designed by Rebecca Danger
Pattern Source: Danger Crafts
Yarn: Malabrigo Merino Worsted in Black Forest, 31g (66 yards); small scrap of Malabrigo Merino Worsted in Damask Rose for bellybutton
Needles: 36" Denise circular needle size US 5 and same size DPNs
Date Started: 3/10/09
Date Finished: 3/11/09
Finished Size: About 8" tall x 3.75" wide
Other Supplies: 9 mm safety eyes, 2" x 1" rectangle of white wool blend felt, Aleene's Flexible Stretchable Fabric Glue
See him on Ravelry!

My niece's birthday is next month and it has become a bit of a tradition for me to make some silly toy to send to her. I first made her a bunny (she was so young there!) when she was born, then for her first birthday I made her a banana slug. When I found the Maddox pattern I knew it would be perfect for her! As soon as I got the pattern I casted on immediately and was finished less than a day later. It was such a fun quick pattern that I really enjoyed knitting.
All of Rebecca's toys are really fun and cute, but Maddox just called for me to knit him. He is just so adorable! One of the best things about her patterns is that there is no real yarn weight requirement. You can just use whatever you have on hand, making them the ultimate stash busting projects which is exactly what I did. I used most of my left over skein of Black Forest from this Koolhaas I made a while back. The color just seems perfect for a spooky little monster, although I don't think he could scare anyone. :) Plus using Malabrigo makes him so soft and cuddly!

This pattern was a really fun knit! The instructions are clear with lots of pictures and row by row instructions. It is worked from the legs up, starting with double pointed needles then switching to magic loop for the body. I had never tried the magic loop technique before, but it was on my to-try list for a long time. It was a lot easier than I had thought it would be, and I'm so glad this pattern made me take the plunge! The only part I had a bit of trouble with was gluing on the mouth, and that's just because I didn't have any fabric glue on hand and couldn't find any in the stores near me. I eventually found Aleene's Flexible Stretchable Fabric Glue at Walmart which is ideal for knits. It worked perfectly! The glue dries clear and it didn't make the felt stiff or hard.
It will be sad to shipping this little fellow off, but I know that he'll get a good home.