Karaoke
Reviewed by Grace Schnebly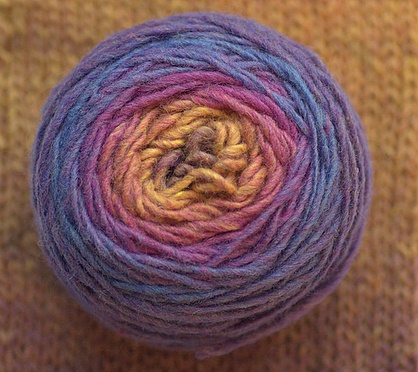 Manufacturer: South West Trading Company
Fiber content: 50% soy silk/50% wool
Gauge: 4.5 sts 6 rows = 1" on US 7 needles, worsted weight
Weight/yardage per skein: 50 grams/109 yards (100 meters)
Average retail price: $9.00/skein
Manufacturer's care instructions: Hand wash, dry flat
Color used: #198, New Splash
Date Reviewed: 1/24/2007
I had never seen this yarn before Alice sent me two skeins in October of 2006. This yarn was different from other yarns I had worked with at the time, since it was the first which contained soy silk. The SWTC website has some information on soy silk, but I mainly wanted to know how would this yarn be different than a 100% wool yarn. To test out this yarn I came up with two patterns, a pouch you can attach to your belt and a Nintendo DS Lite cozy.
First Look

My first impression of this yarn was that it was beautiful. The shades in the New Splash colorway are vibrant, and contains shades of purple, blue, pink, and yellow. The transition between colors is gradual, and that alone makes this yarn worth owning. The yarn is soft and feels nice against your skin. To me it feels slightly softer than Cascade 220, but it may not be as soft as you would think for something that contains 50% "silk". It has a slight sheen under some lights but is not very prominent.
Some Problems
I was a bit surprised to find that the thickness of the yarn was not constant. Yarn thickness varies slightly and gradually on the scale of several inches to a foot. This slight thick and thin texture causes stitches to look less even and a little sloppy, and thicker portions are a bit splitty. I have no problem with small or large scale thickness variations in yarn as long as it is intended to be that way. However, it appears that this slight thickness variation leads to variations in gauge when comparing different parts of the knitted fabric.
The first gauge problem I encountered while knitting the belt pouch. About halfway through the skein, the gauge suddenly changed from 4 sts/inch to 5 sts/inch while using US 6 needles. I thought that the change in gauge would be temporary but the yarn remained thin for the rest of the skein. That would be equivalent to suddenly switching to smaller sized needles half way through your project for no reason at all. The resulting fabric looked uneven and sloppy. The unevenness could not be fixed by blocking either because the change in yarn was just too great.
The second gauge problem occurred while knitting the swatch pictured. I did not realize how much the gauge had changed until after I laid the swatch out flat and measured the dimensions. The purple cast on edge measured 5.5in wile the yellow bind off edge measured 4.75in. The gauge of the swatch changed from 4.5 sts/inch (the standard gauge) to approximately 5.3 sts/inch, on US 7 needles, in just 6.75 inches. Again this shows how pieces come out looking sloppy. Also some portions of the yarn can get so thin that only a few fibers are holding it together. These sections are pretty rare but can pose a problem if they occur in the middle of you work or in a part of a garment that will see a lot of wear.
I encountered a few more problems while knitting with this yarn. In one skein alone there were three knots attaching different lengths of yarn. Knots in yarn are my biggest pet peeve, especially with yarn this expensive. When I buy a skein that states it is 100 meters long, I expect to get a piece of yarn that is 100 meters, not three pieces of yarn that add up to that. I could maybe get over there being a knot in a large skein (and by large I mean very large), but 100 meters isn't even that long! The first two knots attached two pieces of same or similar colored yarns together. However the third knot attached bright blue yarn to bright pink. Doesn't this defeat the whole purpose of a gradual striping yarn? This abrupt color change was very noticeable and seemed strange compared to the usual gradual transition between colors.
Felting

Felting SWTC Karaoke was fun, but I did encounter yet another issue. Both colors in the swatch felted well, leaving little or no stitch definition remaining, but not at the same rate. The yellow portion of the swatch felted faster than the purple portion, creating a misshapen swatch. Because the two colors felted at different rates, the New Splash colorway should not be used in felting projects. When choosing a color of Karaoke for a felted project, I would make sure the colors are fairly similar. Skeins with a variety of colors, like New Splash and many other Karaoke colorways, may yield uneven fabrics when felted. Felting Karaoke wasn't a complete disappointment. The yarn becomes pretty fuzzy after felting, and I actually believe that it feels even softer than before. It feels great against your skin with or without trimming some of the fuzz. The felted swatch drapes well but also feels stable enough to create a sturdy purse or hat. None of the colors faded or bled, and remain as beautiful as they were originally. Overall, I like how this yarn felted. I would love to use it in a felted project in the future as long as I found a colorway that felted evenly. The SWTC website also has listed a few tips for felting Karaoke which are worth reading before hand.
Pros
Colors are beautiful before and after felting
Soft with a slight sheen
Becomes even softer once felted with a slight fuzz
All natural fiber content creates a yarn that is warm, water resistant, and fun to work with
Cons
Gauge is variable within a single skein
Need to be careful not to split thicker parts of yarn
Some extremely thin parts of yarn might break with wear
Several knots within a single skein
Colors in the same skein might felt at different rates
Conclusion
I had mixed feelings about this yarn while working with it, but I am happy with the end products. I do feel that the colors are great and it felts beautifully. I might turn to this yarn for some felting projects that I don't think Cascade 220 or Patons Merino would do justice. Although it seems a little unpredictable, there is no doubt that SWTC Karaoke is a fun yarn to work with, and it is versatile enough to make a variety of projects. This yarn can be frustrating to work with at times, but is definitely worth giving a try.
SWTC Karoke is featured in our Simply Seamless Pouch and Seamless Nintendo DS Lite Sock patterns, so check them out!