Denise Interchangeable Knitting Needles
Reviewed by Alice Schnebly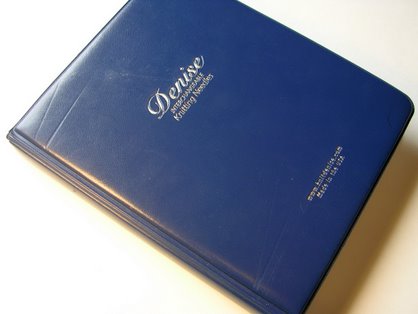 Manufacturer: Denise Interchangeable Knitting Needles
Material: Resin needles with plastic cords
Needle Size Range: US 5 (3.75 mm) to US 15 (10 mm) (US 17 and US 19 tips are available but sold separately)
Needle Length Range: Variable lenghts from 17" to 58" (even longer needles can be made with cord expansion set)
Average Retail Price: Original Blue Denise set - $49.9, Pink Denise set - $54.95 ($5 goes directly to breast cancer research), extra cords and accessories are available from $2.50-$22.00
Date Reviewed: 1/24/2007
One of the first investments I made as a knitter was my Denise needles. I really didn't know much about needles yet, but I did know that there were so many projects that I wanted to make that purchasing all the different size and length needles would have cost me a fortune.
I did some searching around the web to see what was out there and quickly decided on the Denise set above the others I came across. I ordered from an eBay seller, who offered the set for $49.95, with free priority shipping. In less than 48 hours, I had my new needles in my hands!

The needles come in a navy blue plastic case, which, to me, isn't the most visually appealing thing. Although it's not the most stylish, it is extremely well designed in terms of function. Each tip has its own groove that it snaps into snugly, and the needle sizes are stamped into the plastic above so at a quick glance you can see which needles you have out of the case. Truly, everything from the cords to the connectors have their own special place in this case! The resin needles are a simple light grey—nothing special there, although I have read that there is a "Rainbow Denise" set sold through www.knittinghelp.com. This set will set you back $20 more, but you can look at the pretty colors while knitting. I haven't knit with the colored tips at all, so I can't attest to how color fast they are, though.
I have done the majority of my knitting on my Denise set. I can use it for almost everything. The resin the tips are made from is surprisingly light, and is easier on my hands than knitting with metal needles. One thing I particularly love is that the tips on these are pointy. That is one thing I really find speeds up my knitting. I have knit with AddiTurbo circulars in larger sizes, and the Denise set is much pointier. Each needle tip is stamped with its size, which eliminates the need to constantly check them with your needle gauge. The needle tips connect to the cords with a little twist, so there is no need for keys to tighten them like in other sets. The set also comes with four endcaps for the cords, which can instantly change the cord into a stitch holder.
There certainly are a few things that irk me about this set. Sometimes the ends of the tips can develop a roughness which can snag your yarn. This is a quick fix, though, with a run over with some fine gauge sandpaper. The cords can develop some kinks from being stored in the case, but like any other circulars, a little hot water can do the trick to straighten them out. The smallest size circular you can make with the set is 17", and takes a little getting used to; maneuvering the tips at this length feels a little tight and awkward. I have a few AddiTurbo 16" circulars on hand, and if I have the option, I will knit hats with those. Another problem—which I have not had to experience more than once or twice—is that the tips can disconnect from the cords while knitting. It is a scary thought to have live stitches come off your needle! Thank goodness this does not happen often, and I suspect when it did, I hastily connected my cords in the first place.

Recently, I received the Pink Companion Set as a gift, which contains all the components as the original set, without the needle tips. I love the cords in the new pink color, and they feel a little more flexible than my blue ones (Maybe because they have not been confined to a case?). I also can't wait to try my new longer cords (30", 40", and 52") for items like shawls. I also have yet to break in my new size US17 and US19 needle tips. They look to be just as great as the original tips. Each tip set is available for $8, which is a fraction of what a circular needle in that size would cost. Although I don't often knit with such large needles, I am glad to have these on hand for when I may need them. Another Denise item that I am considering purchasing, are extra needle tips in size US7 and US8, as it seems I am always have a couple projects going on these sizes. Overall, I would recommend this set to any knitter.
Pros
Guaranteed for life
Airline Safe
Nice pointy tips
Lightweight
Large needle and long cord expansion sets available
So many combinations of needles in a single set
Cons
Not available in smaller needle sizes
Cords slightly thick for techniques like Magic Loop
Tips can get rough and possibly snag yarn
Needle tips may come apart from cords while knitting