If you've checked our Flickr account at all in the past few days, you'll probably already know that I've been photographing my stash and getting it organized on Ravelry. Wow is that a lot of work! I came across a few things I forgot I had, but not real big surprises. I don't know what I am going to do with it all, so if you have any pattern suggestions I'd be more than happy to hear them!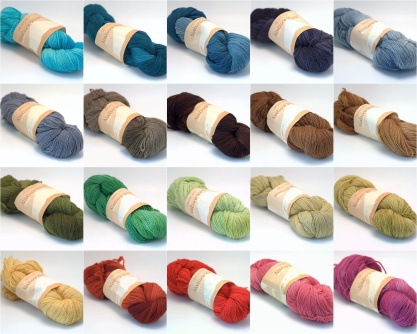 Out of my entire stash I have a few favorites, like my collection of Araucania Nature Wool. The colors are gorgeous and it is so versatile because it can be used for felting. I have a few skeins set aside for the Nordic Lights capelet from Wrap Style and Little and Big Snugs slippers by Pick Up Sticks. The rest I want to use for designing and any other random projects. Another one of my favorites is my Fiesta La Boheme which I got at the huge sale Knit Happens had a few months ago. I only wish I could have got more! There is a cute scarf pattern in Handknit Holidays called the Snowy Triangle Scarf that I will probably use one of the color ways for. I haven't knit with this yarn yet, but I will give it a try a bit later in the year.
Luckily I was able to identify all of my yarns, even the ones that had been sitting around for over a year and had missing labels. I am a compulsive label keeper. Even if I use the entire skein and there are duplicates, I still keep the label! I know.. weird. Well anyways, there was only one skein of yarn I couldn't identify. I bought a kit off ebay for the Fiber Trends Bunny Fun pattern, and along with the pattern it included two amazing yarns. When I purchased the kit I didn't think they would be anything special because the auction didn't describe the yarn at all and I got it for $16. However when I took out the yarns a little paper saying "Kit includes: approximately 240 yards mohair/wool blend and approximately 240 yards 100% wool hand-dyed by Lorna's Laces-Yarns". I've identified the fluffy yarn as an extra large skein of Lorna's Laces Glory in the Aslan colorway, but still have no clue what the other skein is. So I'm asking for your help!!
If you can help me identify this yarn I will give you the extra Fiber Trends Bunny Fun knitting pattern that I have. I will draw names from anyone who replies to this posts with a suggestion on what this yarn might be. So here's what I know… It's a DK or sport weight, single ply wool, in the Lorna's Laces Aslan colorway. I am not really sure if it contains any fibers other than wool. If I think of anything else to add or you have any questions, I will make an edit to this post. You can post your guess until next Wednesday (August, 1) at noon. You can make multiple guesses if you want, but I will only count each persons name once. Any ideas would be much appreciated, because I am at a total loss for what this yarn could be. Thanks!