Like I said before, all I have been able to think about recently are backyard critters and lace! Thanks everyone for your wonderful comments on my Shetland Triangle. I really appreciate it and it has boosted my lace knitting confidence immensely. I thought while I was trying to decide my next lace project I would knit a Backyard Critter…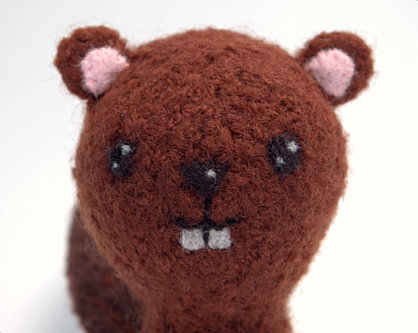 Project Specs
Pattern: Beaver from Backyard Critters Volume 1
Pattern Source: Crafty Alien
Yarn: Patons Classic Wool in Chestnut for body and Taupe for tail; small amounts of Black and Winter White used for eyes, nose, and teeth.
Needles: US10 Denise needles
Date Started: 7/9/07
Date Finished: 7/10/07
Finished Dimensions: 4" tall
Modifications The usual… Needle felted the eyes, nose, and teeth using Patons Classic Wool and a 40 gauge felting needle.

It may seem like I am a little obsessed with these critters… well I am and I won't deny it. Once you make a couple of them they get a bit easier, simply because you know what you're getting yourself into. Also for some reason they're extremely addictive to make. I really enjoy seeing each one come to life. As I make each one, I develop a little bio in my mind which really helps me add character to their faces. I know… I am crazy! They're still tedious and the finishing is a pain, but now I consider making them a labor of love.

I did the typical Grace-style finishing on this guys which means needle felting the face and seaming with a single ply from the yarn. I originally had the teeth about two thirds the size, but Si wanted them bigger. I think they are cute this way and now he really reminds me of Sponge Bob. The only thing that irks me about his face is that he really doesn't have a chin, but what can you do. I absolutely love how the tail came out. I originally needle felted the cross hatching, but it barely showed up so I embroidered over it. It turned out great, and I am glad that I did the needle felting because it gave the tail some texture. I forgot to take a picture of the parts before I felted him, but they weren't much different than those from the Swat Team Kitties.
I don't think that I will stop making these critters until I've either made them all or go crazy trying. They are good to make in between longer knitting projects and don't require much yarn. I am going to try to make at least one a week, so I will apologize in advance for the flood of critters to come. Now I just need to decide which one to make next!!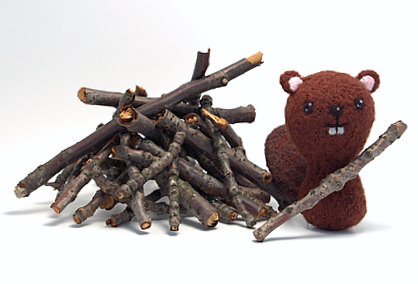 PS I am sure that all my neighbors think that I am insane for walking up and down the street picking up little twigs. They would probably think I was even more insane if told them it was for a miniature beaver lodge…