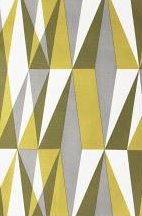 Well, calling this past week busy would be an understatement I think. Last Thursday my mom and grandmother arrived from Washington and every moment since then has been spent on home improvements around here. We've lived in this home for almost three years now, and haven't had the chance to change much at all. I am excited that I finally have the time—and some really great help—to finally decorate this place!
So far my mother and I have mostly been painting. The colors I chose were inspired by this Pernilla fabric I bought at IKEA a few months ago. I really love them! We have some pretty high ceilings which has made it take a bit longer than we've expected. Luckily we have my 80-year old grandmother here to help keep an eye on Camdyn while we're doing the painting. I don't think we would have gotten nearly as much done as we have without her here! She's also got quite the eagle eye, so she's very good at quality control and pointing out any spots that we've missed ;)
One thing that has certainly slowed down the process is the heat here! It has been SO HOT. Today is supposed to be the worst too. Las Vegas is forecasted to tie the record high today at 116 degrees, and some parts of the valley will be even hotter. Even with the A/C on all day long it seems to heat up if you even move around the littlest bit! We are trying to make sure that everyone is staying cool here—especially Grandma and Camdyn—so this morning we ran to Lowes and picked up two fans to help circulate the air even more. They really are helping and I like that they aren't too obtrusive looking.
We still have quite a bit of work left to do but we're steadily progressing. Hopefully I'll have a good picture of it all before Camdyn and I head back to visit family in Washington for a week, right now everything is in a real state of disarray!
In knitting news, although I haven't knit a stitch in a week, I'm excited to finally be part of Ravelry! I've tried to sit down and add most of the projects I've blogged about the last couple of months, but there are so many more that I need to add! I haven't gotten the chance to look around on there too much, but so far it looks like a great resource to see what other knitters are up to. I can't wait 'til I have more time to look around and 'favorite' items and add to my queue. My username is AliceKathryn, so please add me as a friend!