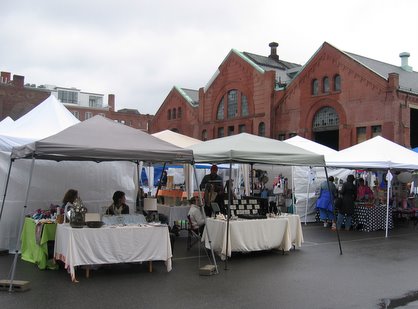 Yesterday Si and I checked out the South End Open Market in Boston. I had wanted to go last year, but I never got around to it since moving was so hectic! I am really glad I went to the opening day, and I guarantee that I will be going back several times this year! I can't wait to go with Alice when she comes to visit. The only problem with open market is that I can't resist spending tons of money. We had to take an extra trip back to the ATM half way through… I have to warn you now, if you go to the market you will spend more than you intended!!

There was a great variety of artists there. I think a majority of the stands sold jewelry, but there was also lots of clothing, photography, paintings, soap, fossils, baked goods, plants, sculptures, and so much more! The only downside to the day was the weather. It had rained for all of last week, and they had to cancel the opening day on Saturday. It still rained on Sunday, but at least there were a few rain breaks. It was still worth it to go out in the weather to see all of the fabulous items though!

We ended up purchasing from two different stands. First we bought an original oil painting by Jorge Barboza, an Argentinean artist, from Triba-Art. They were really nice and Si and I both fell in love with this painting so there was no question that we had to get it. We both really love the work by this artist, and I can guarantee that we will have several more of their paintings by the end of the summer! The stand also sold painting by other Argentinean artists, and all of them were absolutely outstanding. I can't wait to go back!!! That is such a great thing about the open market, you get exposed to so many different artist that you never would otherwise.

The second thing we bought were two Skullknockers made by Mandy Lamb. I kept coming back to this stand because I couldn't get enough of these creatures!! Something about them is visually addictive for me, and I had the hardest time choosing which one(s) to get! I ended up deciding on Cellulite Pig, a black pig with pink nose and tail, and Bird dog, a brown beaver with green snout and tail. They are made from vinyl, stuffed with recycled cotton, and have a walnut heart. The features are stitched on, and I am absolutely in love with these creatures!! I will be saving up to get more of these guys because they are sooo cute. I love all of her designs, and can't wait to own a hippo or maybe even a shark. They're also for sale on her Etsy shop, so check them out!!
We also went to one stop on the SoWa Art Walk. I wanted to go see the plushies made by Soto Softies, and she was showing her stuff in a building close to the market. The building was filled with all mainly painters and sculptural artists, but I think her stuff was the best. Her critters are so cute, but sadly most of them were sold by the time I got there. She said she will be showing at the Art Walk again in September so I will definitely be checking them out then! If you just can't wait until September or aren't near Boston, check out her Etsy shop!