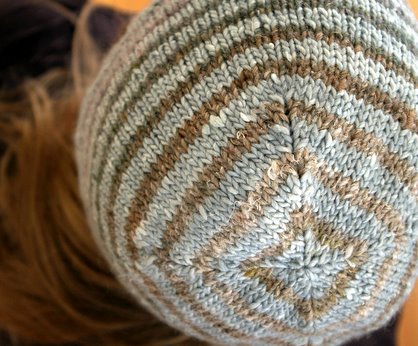 Project Specs
Pattern: Turn a Square designed by Jared Flood
Pattern Source: A free download from Jared's Pattern Store
Yarn: The Fibre Company Terra in Yarrow 36g (72 yds) and Noro Silk Garden in #88 10g (22 yds)
Needles: KnitPicks Nickel Plated Options Circular Needles size US6 for ribbing and US7 for body of hat
Size knit: Fits average women's head
Date Started: 11/18/2010
Date Finished: 11/18/2010
Modifications: Cast on 88 sts on US 6 needles for ribbing. Changed to US 7 needles for body of hat and worked 3 extra rows after 5.5" inches knit to make up for length lost by knitting one less increase.
See it on Ravelry!
Lately I've been having a terrible case of Startitis, without actually starting anything. There are about 10,000 things I want to knit but I have the hardest time trying to settle on one thing. Usually this time of year I'd be making Christmas presents, but I have decided to just knit a few things for the girls and leave it at that. Maybe next year I can get an earlier start (I say this every year) and create something for everyone on my list, but for now I'm going to focus on filling out my winter wardrobe.

When I figure out what I want to knit, I usually pick the pattern before picking the yarn. This time I was completely inspired by the yarn, and I think that Turn a Square shows them off perfectly. Terra is super soft and a really nice change for me since I usually work with 100% wool yarns. I have been wanting to knit with other types of fibers more often, and this hat is a good start. I also like the way that the Terra compliments the Silk Garden and the more muted colorways I used for both. The Yarrow colorway is especially nice and seems different either sea foam green or minty blue/gray at times. I'm excited to announce that I will be adding 23 colors of Terra to our yarn line up on Mr. Yarn this Saturday!

This pattern is really simple, although I did changes a few things to make it fit for me. It seems that the pattern is written for a large men's size, and when I originally cast on and tried it on using the numbers given in the pattern it was really loose. I ripped out my first version and went down to 88 sts on US 6 needles for the ribbing. After 1" I switched to US 7 needles and worked 5" plus 3 extra rows to make up for the length lost by eliminating one decrease round. I finished the decreases as written and wet blocked the hat flat. I ended up not having to steam block the bottom portion of decreases since they flatted out after washing.
This hat was good practice for working jogless stripes. Thats one technique that I'm still trying to get down. I worked the jogless technique demonstrated here.