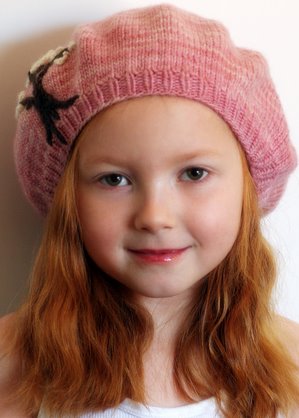 Project Specs
Pattern: An improvised stockinette beret, with a ribbed brim and added embroidery
Yarn: 62g (130 yds) Malabrigo Merino Worsted in Damask Rose, scraps of Natural and Chestnut for the embroidery
Needles: US6 and US7 16" Addi Turbo Circulars, set of size US7 DPNs
Size knit: Fits Camdyn's 20" head
Date Started: 10/25/2010
Date Finished: 11/9/2010
See it on Ravelry!
Every once in awhile I pick up a ball of yarn with no direction or no real plan and just decide to see where it goes. Normally I make something that ends up frogged or thrown out, but this time I actually have a keeper! Even though I've been knitting for quite a few years now, it's still pretty hard for me to just wing things. I've modified many patterns, sometimes drastically, but just going with the flow is something that doesn't come naturally for me. Even when working with Elizabeth Zimmermann patterns I have to read through the whole thing and write down each section with all the numbers laid out like a more typical pattern. For this hat I did some quick math to figure out my cast on amount and just increased and decreased when it looked right. I'm pretty content with how it turned out. Though it is a very simple silhouette, it's still quite an accomplishment for me!

I continued with the idea by adding some free-form embroidery. I love the look of embroidery on knits, and I'm determined to practice this technique until I'm comfortable at it. So far I've added embroidery to a few other knits and though I like the finished looks of them all, it's not as clean as I'd like it to be and I've never branched out beyond simple stitches. This time around I practiced my french knots, which honestly I only successfully executed about half the time. I guess practice makes better right?
I know it seems like we've been making quite a few hats here lately, but you wouldn't believe how quickly Camdyn's head is growing! She's grown out of quite a few of last year's hats so I'm working on replenishing her hat stash.
I also want to say congrats to Grace! Her Heart of the Mesa Mittens took second place in Malabrigo's Sock Design Contest. There were so many great patterns, and since I am not a sock knitter, I loved seeing the variety of things that everyone designed from beautiful Malabrigo Sock that weren't socks!