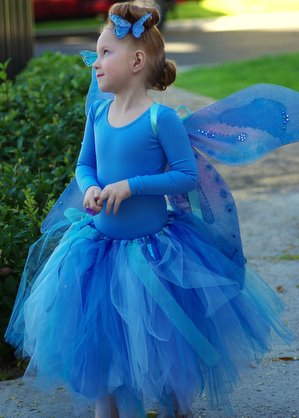 As crafty as I consider myself to be, I've never actually done the whole homemade Halloween costume thing for Camdyn. She's been a doctor, Elmo, an elephant, Snow White, and a cat. This year I made sure I started nice and early to make certain I wasn't buying a costume last minute at Target.

Camdyn has been really into princesses and fairies since going to Disneyland for the first time this summer. I decided that would be a great jumping off point for her costume. The skirt is made from three colors of tulle (light blue, periwinkle, and turquoise) and ribbon looped to an elastic band. The wings are nylons stretched over forms made from wire hangers, painted with simple acrylic craft paint and decorated with glitter and rhinestones. I think I had the most fun adding the butterflies (from Michael's) to her wings and hair. They add the perfect fairy princess finishing touches.

The costume came together pretty inexpensively. Most my items were bought on sale or with coupons from JoAnn's or Michaels, except for her bodice which is a ballet leotard. The weather was also beautiful here in Las Vegas last night, so we didn't even have to break out a jacket for trick or treating. I'm definitely happy with out my first foray into costume making went. Next year maybe I'll actually try to knit something!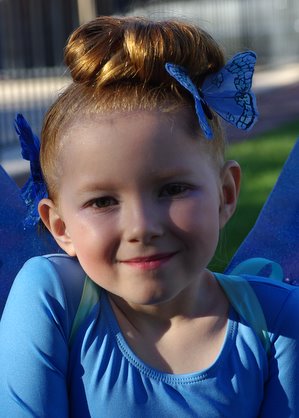 P.S. Tomorrow Grace's Heart of the Mesa Mitten Pattern is being released! If you're interested in knitting some beautiful and colorful mittens, keep an eye out!