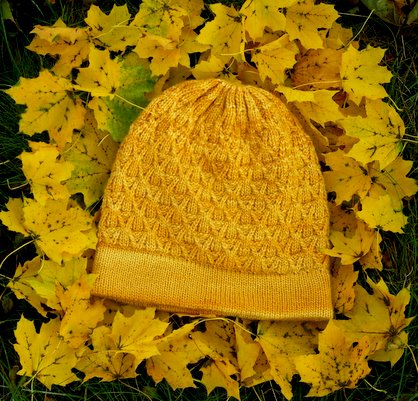 Project Specs
Pattern: Golden Autumn designed by Lucy Sweetland
Pattern Source: Lucy's Ravelry Pattern Store
Yarn: Malabrigo Silky Merino in Sand 74g (222yds)
Needles: KnitPicks Nickel Plated Options Circular Needles size US3 and US4
Size knit: Small
Date Started: 11/25/2009
Date Finished: 11/30/2009
See it on Ravelry!

Why do I always do this? I knit something almost obsessively until it is finished, then stick it in my closet and let it sit for about a year. Hats seem to the be the most common victims, probably because I never really know how to properly block them without creating any creases. Well I am now determined to pull out all of the knits from my closet that I've collected over the last year and finish them, wash them, and use (or gift) them... so I can make room to do it all over again next year.

I knit this hat at the end of fall almost a year ago. I was really inspired by the beautiful yellow leaves that fall in my yard, and the Sand colorway matches them almost exactly. Once the leaves started to turn again this year, I immediately thought of this hat and it will definitely be getting a lot of action this year. It really is a comfortable hat, and although I'm always a bit weary of wearing slouchy hats, this one is just right. You can always adjust the amount of slouch by wearing it further down on your head, or if you're not that fond of the extra length just work less repeats of the pattern.

The band is probably my favorite part of this hat. I love how simple it is (I'm a little sick of always knitting ribbing) and since it is doubled thickness it will be warm and durable. One thing I forgot to keep in mind when I knit this is that you want the band to have some negative ease. Since my head is 22" around I cast on for the 22" band size without thinking, and it turned out huge on me. I ended up having to rip it out one time and go down to the smallest size given in the pattern, which ended up fitting perfectly. I also really like the feel of the silky next to my forehead and ears. Some yarns can be itchy, especially on these parts of my face, but this is nothing but super soft and warm!