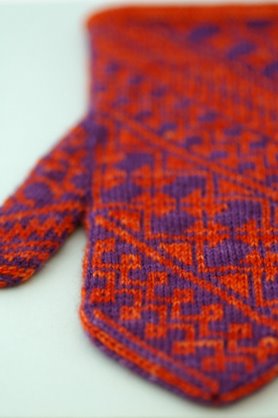 I've been working away at my Malabrigo Sock design contest entry and finally have my first version finished! They're called Heart of the Mesa Mittens as I was inspired by the beautiful woven designs of the Navajo and the amazing petroglyphs

of the Anasazi in Monument Valley and Canyon de Chelly National Monument. Growing up my family would take many long road trips to this area and it has always been one of my favorite childhood memories.
I'm looking for 5 or 6 knitters to test this pattern, so if you're interested please email me, leave a comment on this post, or message me on Ravelry tonight or tomorrow. Knowledge of stranded color work is a must (the pattern is not difficult, but not suited for a beginner), and if you could include a link to your Ravelry notebook that would be great. The pattern is written to fit an adult woman's hand 7.5" circumference around palm above thumb, but I would like some people with smaller hands to try out the pattern in a size

smaller needles than I have suggested in the pattern. The deadline is October 25 to give me whatever feedback on the pattern as well as a photo of a least one finished mitten if at all possible. I'm sorry that the deadline is a little tight, but the patterns are to be finished and submitted by November 1. The suggested yarn is Malabrigo Sock, however you can choose to knit your sample in any comparable yarn.
To those of you who end up testing the pattern, I will give you a copy of the final version as well as a copy of your choice of any of our other for sale patterns. If you already have all of our other patterns, then we'll work something out. :) I look forward to hearing from you!