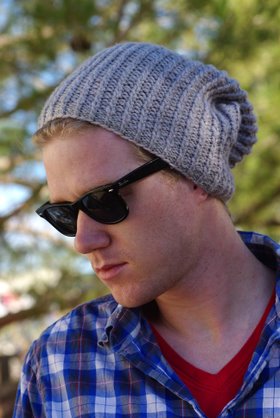 Project Specs
Pattern: Simple Slouchy Hat designed by Julie Weisenberger
Pattern Source: Coco Knits
Yarn: 128g (133 yds) Malabrigo Chunky in Polar Morn
Needles: US6 and US10 Denise Interchangeable Needles
Size knit: Large
Date Started: 10/3/2010
Date Finished: 10/5/2010
See it on Ravelry!

I truly forgot how much I love knitting with Malabrigo Chunky! I've only knit a couple things with it so far, but that's definitely not from lack of love for the yarn--I just have never been able to get my hands on much of it. When Grace opened the internet doors to her new shop, I nabbed up a couple skeins of chunky in my favorite colorway (Polar Morn, the absolutely most beautiful grey). It was the perfect inspiration to get myself back into knitting!
This pattern would be great for anyone who is just learning to knit on circular needles. There is no decreasing, so you never have to switch to DPNs. It's a great beginner pattern in general; the stitch pattern is very simple and you can just sit back and knit until your desired length. For the size large, the pattern says to knit 12.5" before binding off, but I ended up only knitting to 11" because the hat was already looking extremely long. If you want an even slouchier look you could definitely keep knitting for those extra couple of inches.

The hat is finished off with a three needle bind off, however next time I think I will use a kitchener stitch for a more seamless look. Either way this hat really flies off the needles, and is the perfect simple hat for the man in your life that prefers the no frills look but also likes to be a little trendy at the same time!
Although I've gotten a little bit of a late start to October Stockpile, I do have some other projects planned for the month. I'm hoping to knit Camdyn a new sweater for her first ever school picture day, test knit a mitten pattern for Grace, and add at least one shawl to my 10 Shawls in 2010 tally.