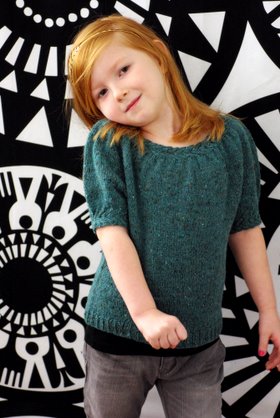 Project Specs
Pattern: Llani designed by Katya Frankel
Pattern Source: Katya's Ravelry store
Yarn: Rowan Felted Tweed in Watery (SH152), 115g (440yds)
Needles: KnitPicks Nickel Plated Options Circular Needles size US5
Size knit: Child's size 6 (to fit 24" chest circumference)
Date Started: 6/10/2010
Date Finished: 6/15/2010
See it on Ravelry!
It is so exciting to get back into the swing of things! Unfortunately just like Alice, I always tend to put down my knitting during the summertime. It must be a combination of the heat and sunshine that beckons me outdoors. I have been working on a few projects though and I am excited to be able to reveal them very soon!

I started this darling shirt way back in June during the Celtic/Lakers NBA Finals. I needed something to relieve the stress and frustration (if you are a Celtics fan, you'd understand) while watching the games. It was so helpful to be able to turn away from the game and mindlessly knit for a while. It's amazing how therapeutic knitting can be.
I really enjoyed knitting this pattern! The instructions were really simple while the design was interesting, and the finished product turned out even better than I was expecting. The shape of this shirt is pretty unique as far as girl's knit shirts go, and it really has the feel of an adult top, just shrunken. I think my favorite part of this design is the wide collar and pleating which creates extra volume in the body of the shirt. Despite all of the cute little details, the construction of this shirt is so simple that once you get past the collar it is smooth sailing.

This shirt is knit in DK weight yarn. I am really happy with the light weight and slightly rustic fabric that the Felted Tweed created. It isn't the softest shirt in the world, when Camdyn tried it on she said it was a bit itchy but wanted to keep wearing it, so it is best paired with an undershirt. The blue green color goes perfectly with her red hair, and this shirt will make a great addition to her new kindergarten wardrobe one the weather cools down a bit in the fall.