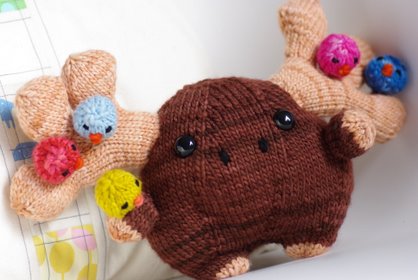 Project Specs
Pattern: Confused Moose by Anna Hrachovec
Pattern Source: Knitting Mochimochi by Anna Hrachovec
Yarn: 26g (55 yds) Malabrigo Worsted in Marron Oscuro and 25g (54 yds) in Beige. Small amounts of various other colors for birds.
Needles: US6 Clover Bamboo DPNs
Finished Size: 11" from antler to antler and 8" tall
Date Started: 7/12/10
Date Finished: 7/16/10
See him on Ravelry!
This moose instantly caught my eye when I was first browsing through Anna's book. I decided I had to knit up this rotund little guy as soon as possible! I think he turned out even cuter than I imagined.

This was a very enjoyable knit with just enough to keep me excited throughout. I really liked the construction of the antlers. They came together so neatly, and without the need for much extra finishing or tidying up at the end. I do wish I would have knit more little birds though, but they reminded me of knitting all those balls earlier this year and I couldn't bring myself to knit more than five!

Not surprisingly I chose to knit with Malabrigo. It seems I always have Mal Worsted around in just the right colors for about every project! I love how the semi-solids give my moose a little more depth--since we know in nature things really aren't all one color! And because this guy is extra soft, he's sure to get lots of cuddle time with Camdyn. Even before he was finished she toted around his body (with only the eyes attached) all day Wednesday!
Of course I could go on about Malabrigo all day (it is truly an addiction), so if you're interested in listening to Grace and I wax poetic about our love for the yarn you should check out the interview we just did with Hannah at Malabrigo Yarn! It was awesome to be asked some great questions about our favorite yarn and to remember some of the first projects we made with it. You can check out it out on Malabrigo's blog where they'll be featuring even more Mal-loving bloggers in the future.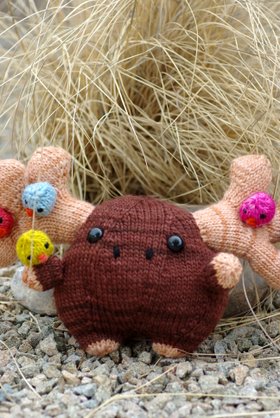 Okay, now it's time to announce our two winners of the Knitting Mochimochi book giveaway. Our Twitter winner is missblonde1 and our blog winner is Hannahbelle! Congrats to both of you, and we'll be getting in contact with you to find out where to send your copies of the book!