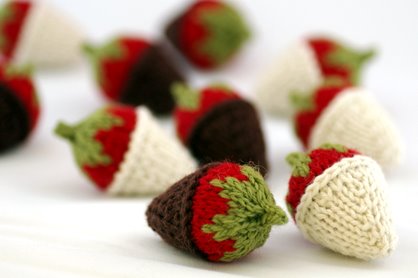 Project Specs
Pattern: Knit Strawberries designed by Pezdiva
Yarn: Cascade 220 #8010 Natural, Cascade 220 in an unknown brown color, Patons Classic Merino in Bright Red, and Patons Classic Merino in Leaf Green; 2.5 yards or less of each color.
Needles: Clover Bamboo DPNs size 5
Cast On: 4/10/2010
Finished: 4/13/2010
Finished Size: Each strawberry is 2.5" long
Modifications: Cast on using chocolate color and worked pattern through Row 10 then bound off. Picked up stitches along purl bumps on inside of cast off edge using red. Continued pattern starting at Row 11.
See them on Ravelry!
One of my niece's favorite toys are play food. She loves making sandwiches out of just about anything and serving them up to her parents or anyone who may be over. Her birthday is this month and Alice and I came up with a great idea of knitting a bunch of play food so that she can run her very own bakery. We've both been working on a variety of sweet treats so her shop can have a great selection!

These little strawberries knit up so quickly and take barely any yarn! I've been trying to use up my way too large stash of Patons and Cascade, and although this pattern isn't exactly a stash buster, it is great for using up any small scraps you have laying around. I ended up knitting 5 of each kind, white chocolate and milk chocolate. Alice will be completing the set with some dark chocolate covered berries to match.

Modifying the plain strawberry pattern was a piece of cake. I knit the pattern as directed through row 10 in the chocolate color then bound off knitwise. Using red, I picked up stitches along the purl bumps behind the bind off row and continued with the pattern, picking up where I left off at Row 11. I ended with 2 i-cord rows for the stem.
I know I'll be knitting this pattern again in the future. I think for Christmas I will be giving my niece a whole basket of play fruit, vegetables, and maybe a few more sweets to add to her shop. If anyone has a favorite faux food pattern please share it!