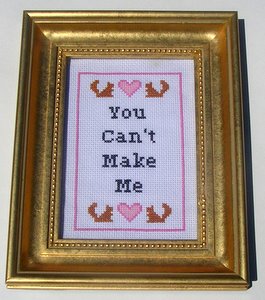 I finished up another gift for my new niece; it's not knitted, but bear with me. When I was making this, I kept thinking it might not be totally appropriate, but I just kept reminding myself of all the wonderful things that my older sister taught Camdyn. Like showing all the chewed up food in her mouth, spitting, and I am sure other things. So, of course any little niece of mine needs a placard that says "You Can't Make Me."
The x-stitch chart came from Julie Jackson's Subversive Cross Stitch book that I got for Christmas from Grace. This is definitely one of the tamest designs of the lot. The gold frame is from Ross, which seems to be the best place to go for tacky stuff on the cheap!
Today has been mostly full of packing and preparing for the drive to Northern California, though I did get a nice break when I met fellow Las Vegan and knitter, Sin City Kitty, for lunch. We went to Panera Bread (I had never been there, it was good!) and hung out. It was really fun, Camdyn was (fairly) well behaved, and I got to see the gorgeous socks she was knitting out of her newly dyed yarn!
I will be off for a few days, so depend on Grace for some good updates—and that finished Vintage Velvet, I can't wait! Don't worry though, when I get back hopefully I will have some sweet pics of my niece wearing her new hand-knits!