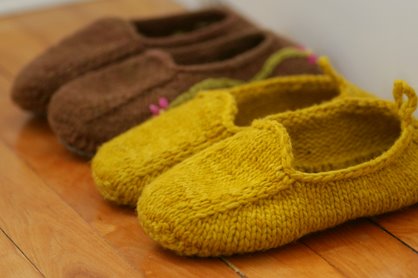 Project Specs
Pattern: Malabrigo Loafers designed by Julie Weisenberger
Pattern Source: Coco Knits
Yarn: Pair #1: 121 g (252 yds) Malabrigo Merino Worsted in Frank Ochre; Pair #2: 121 g (252 yds) Malabrigo Merino Worsted in Dark Earth, with small amounts Shocking Pink and Lettuce embroidery
Needles: US 10 Clover bamboo DPNs
Date Started: 12/13/08
Date Finished: 1/5/10
Size: Medium for both pairs
See Si's Pair and Grace's Pair on Ravelry!

Well today I thought I'd continue the slipper theme here and show you the loafers I made for Grace and Si for Christmas. I started these way back in 2008, but didn't finish them up and add the soles until just last month. There was no reason to put it off so long because these are an easy and quick knit.

The pattern comes in three sizes, ranging from Women's 6 through Men's 12. The slippers are ultra cozy knit in double stranded Malabrigo. For easier care, you could deifnitely use something like Cascade 220 Superwash, though you might sacrifice a bit of comfort. This pattern would be a great stash buster for any worsted weight yarn, since you can always used a different color for the soles. Also, you can substitute a bulky yarn for the double stranded worsted as well!

Si's favorite color is yellow, so I decided to use one of my Malabrigo favorites, Frank Ochre. I love how even when holding this yarn double stranded you can still see the subtle color variations. I originally added the penny loafer band on Si's pair but decided I liked them better without them. I also added loops to the back of his slippers, which come in really handy for pulling them on and hanging them up after wearing. There are a couple other embellishment options in the pattern including little acorns and puffs.

On Grace's loafers I added some simple embroidery. I'm just learning the basics, but it's something I want to attempt more often on my knits. It's definitely an easy way to customize these for any recipient you have in mind. I also think they'd be cute with some felt patches added to the tops. Really you could keep these simple or dress them up as much as you'd like and they'd look great either way.

To make sure I got the right size, I actually blocked these slippers over a pair of my shoes! First I covered each of my shoes in a plastic bag and inserted them into the slipper. I found this really helps even out the stitches and give them a nice shape. Before blocking my stitches looked pretty sloppy, I admit. This probably won't work when I make a pair for myself but since I was going for a larger size, using my shoes as an insert turned out great. I also imagine a rolled up hand towel would work just as well!

One final thing I added to both pairs of slippers were some Fibertrends 2-piece slipper bottoms. Grace and Si's home has wood floors throughout so I didn't want them slipping and sliding all over the place. From what I've heard, the suede soles have been great for traction, especially when they're running up and down the stairs.

I'm so glad Grace and Si both liked their gifts and are already getting lots of use of them so far this winter. I definitely see this being one of my go-to last minute gift patterns because who couldn't use a warm and cozy pair of slippers?