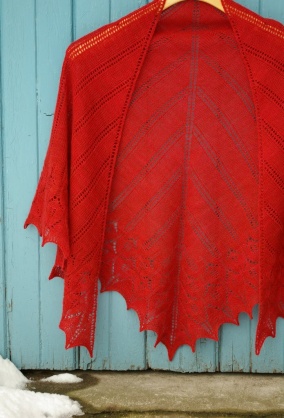 Project Specs
Pattern: Icarus Shawl designed by Miriam L. Felton
Pattern Source: Interweave Knits, Summer 2006; also available for download on Ravelry
Yarn: Malabrigo Lace in Sealing Wax 86g (810 yds)
Needles: US 3 24" Addi circular needle
Date Started: 8/25/2007
Date Finished: 5/20/2009
Date Blocked: 12/24/2009
Finished Size: 65" across top, 31" down spine
See it on Ravelry!

The Icarus Shawl has to be one of my longest standing UFOs. I started this shawl way back in 2007, excitedly casting on with a friend who was also knitting the pattern at the same time. I got pretty damn near close to being finished with it too before realizing I had a tiny flaw in one of the yarn over columns and set it aside. I forgot a single k2tog, and that's all it took! I didn't notice my mistake until I was quite a few rows in and I hadn't placed any lifelines. I ended up frogging the whole thing, though I really did love how it was working out. It took me about a year and a half to cast on again, this time finishing it relatively quickly despite my compulsive counting of stitches and close examination of my work until the end.
Despite my troubles while knitting this pattern, I loved it! My mistake and the amount of time it took me to finish my shawl definitely wasn't the pattern's fault (chalk it up to inexperience in knitting lace I guess). I love how the shawl turned out and I can see myself knitting another one someday. The design is simple, perfect for showing off the beautiful Malabrigo color variation or more variegated colorways or yarns. It's also easily sized up or down so you could make it the perfect size for you.

I love that I finally got a chance to use Malabrigo Lace. This yarn is heavenly soft and the colors are vibrant. The gauge of this shawl is just right; Malabrigo Lace knit on size US 3 needles creates the perfect fabric in my opinion. I look forward to using this yarn again for one or maybe even several of my shawls for the 10 in 2010 KAL. I'm definitely going to knit a Swallowtail Shawl in this yarn, maybe with some beads, which will be a new experience!

For me, the worst part of knitting a shawl is always blocking it. I don't necessarily mind pinning the whole thing out (blocking wires are a tremendous help on this front). However, the only place I have to pin them out is on my bed. This means that I will always have to spend at least one night on the air mattress whenever I block any fairly large knits (making me feel particularly bad for my husband). Recently I bought two packs of foam rubber floor mats from Lowes and used them for blocking my Icarus Shawl. They worked great! The t-pins I use along with the lace wires stick easily into the mats while holding firm. I placed a sheet over the mats before placing my shawl on it to help absorb some of the extra water and I was amazed at how quickly the shawl dried. Best of all I was also able to get a great night's sleep in my bed!