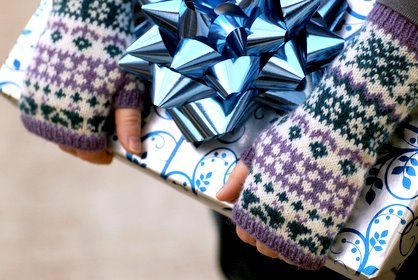 Project Specs
Pattern: Wintry Mix Mitts designed by US!
Pattern Source: KathrynIvy.com Ravelry Shop
Yarn: Version 1: Berroco Ultra Alpaca Sport in #4201 Winter White, 26g (75 yds); #4283 Lavender Mix, 22g (64 yds); and #4288 Blueberry Mix, 16g (47 yds)
Version 2: Berroco Ultra Alpaca Sport in #4201 Winter White, 26g (75 yds); #4249 Fennel, 22g (64 yds); and #4234 Cardinal, 16g (47 yds)
Needles: Size US 1 needles for ribbing & US 2 needles for main body (both versions)
Finished Size: Women's Medium, 9" long x 3"wide
See Grace's on Ravelry!
See Alice's on Ravelry!

The creative juices are flowing! Now that we're back at knitting and blogging, I'm so glad that we're finally able to get some of these designs that have been rattling around in our heads down on paper. I've been thinking about a cozy pair of fingerless mitts ever since the weather turned cool here in Boston, so gathering inspiration by traditional cross stitch samplers and my favorite season, these mitts were born. Just looking at them make me want to curl up under a cozy blanket, sip hot spiced cider, and watch Home Alone.

We played around with a few different yarns for these mitts but finally decided on Berroco's Ultra Alpaca Light. It works great for colorwork. The yarn has a beautiful halo and a gentle washing evens out the stitches nicely. The range of colors in both solid and heathered tones look beautiful in stranded patterns. The Wintry Mix Mitts pattern calls for only three colors, but if you're feeling adventurous you can try it in as many different colors as you'd like!

Although we're big mitten knitters, sometimes you just need something with a little more flexibility--especially since it's pretty impossible to knit with mittens on! These mitts are great for times just like that, reading, knitting, or typing, where you need to use your fingers but still want some warmth during these cold winter months. The skills required are small diameter circular knitting, basic increases, and stranding with 2 and 3 colors. We recommend the pattern for intermediate level knitters, and if you have any experience with stranded knitting, these mitts should be a breeze.
From now until Christmas we're offering this pattern for $2.50, so buy a copy for yourself or use the new gift feature on Ravelry to get a copy for your knitting buds!