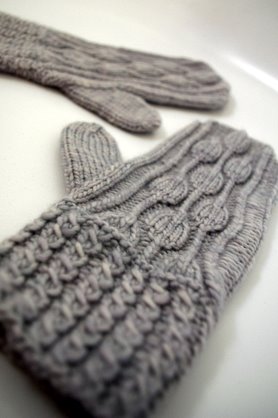 Project Specs
Pattern: Breathe Deep designed by Kirsten Kapur
Pattern Source: Through the Loops Designs
Yarn: Malabrigo Merino Worsted in Polar Morn, 150 yards (70g)
Needles: Size US7 Clover Bamboo DPNs
Size knit: M/L
Date started: 1/2/09
Date completed: 12/2/09
See them on Ravelry!

It may come as a surprise that as much as I love to knit with bright hues, my personal preference is for neutral tones--and my favorite color of all is gray. I absolutely love the calm feeling I get when I'm surrounded by it, so much so that most the walls in my house are painted a light cool gray. These mittens give me that same sentiment. The soft halo of the yarn, the color, and the pod-like design come together to make these some really awesome mittens!
Kirsten's designs never disappoint. I've knit Thorpe four times, and I've got no less than ten of her other patterns on my to-knit list. When I got the chance to test knit one of her new patterns back in January, I jumped at it. I finished the first mitten quickly and turned in my notes, started in on the second and life got in the way. I'm so glad I was able to get some nice relaxing knitting in yesterday to finish them. They turned out great and will make a great gift for one of my aunts this Christmas.

I love how the pattern flowed. The mock cable stitch is fun to do, and I was able to knit right through the cuff after only looking at the pattern once. After completing the first few pods (as I like to call them) on the main mitten, I knit the design up to the decreases and only checked the chart occasionally along the way. I feel like this pattern would be a great first mitten project. It's got all the basics and still has a super cool end product.
My main advice for working this pattern is not to be fooled by how your mitten looks along the way. Because of the nature of the stitch pattern, the body of your mitten will pull in all sorts of ways (like a funky ribbing). Blocking is necessary to even the design out and shape the mitten. Using a natural yarn, like the called for Malabrigo Worsted, is definitely a must. I am always amazed at how wool really transforms once it's washed. Blocking can cover many flaws like uneven stitches, tension, or gauge. Because of the long span of time between when I started and finished these mittens, my gauge actually was different the second time around. After a nice soak in wool wash and being left to dry on some Mitten Blockers my mittens are now a perfect match.