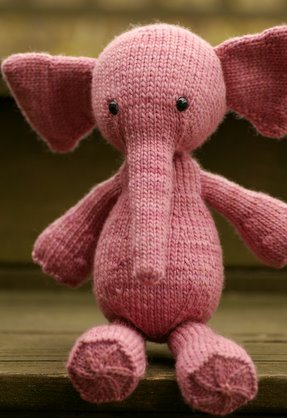 Project Specs
Pattern: Elijah designed by Ysolda Teague
Pattern Source: Ysolda's Ravelry Store
Yarn: Malabrigo Merino Worsted in Damask Rose 65g (136 yards)
Needles: US 3 Clover DPNs
Date Started: 4/2/09
Date Finished: 4/20/09
Finished Size: 10.5 tall
Modifications: used fake grafting to attach ears, omitted plain knit rows before decreases on arms and legs, changed SSK decreases on face to SYTK decreases
Other Supplies: 9 mm safety eyes
See her on Ravelry!

Meet Ellie! She's a little shy and a bit clumsy, but has a heart as big as, well, an elephant! I'm sending her off with the Spiral Yoke Baby Sweater to my cousins for their other little girl who is 3 years old. I never knew what it was like to have a new baby around the house since I was the youngest, but I can only imagine that it is a pretty hard transition. I didn't want her to feel left out so hopefully Ellie will be able to cheer her up if she starts feeling jealous of her new baby sister.

The Elijah pattern is very simple for how shapely it is; well placed decreases make knitting it a breeze. Each piece is picked up and knit saving you from having to graft everything together at the end. I did opt to knit the ears separately though because at that point the legs and arms were already on and it was pretty heavy and unwieldy. It took me forever to get the right placement of the ears though! If I were to knit this again I would probably pick up the stitches for the ears before attaching the body and limbs. I also took Alice's advice from when she knit TechKnitting's SYTK instead of SSK decreases for the face.

I love using Malabrigo Worsted for toys. It is the ultimate cuddle-friendly yarn and works very nicely at tighter gauges, making it perfect for toys. I also love this Damask Rose color. I used it for half of the Malabrigo March projects I've already uploaded! I can't help but be reminded of the Pink Elephants on Parade scene from Dumbo when looking at Ellie, but I think she is way less scary. :) I hate that I'm so late to post all of these Malabrigo March knits, at least I got this one finished in time! I still have a few more things to post, a Thorpe, Opus Spicatum, and Wavy Feathers Wimple. I've also started on my next Non Malabrigo March Malabrigo project that is a bit of a blast from the past!