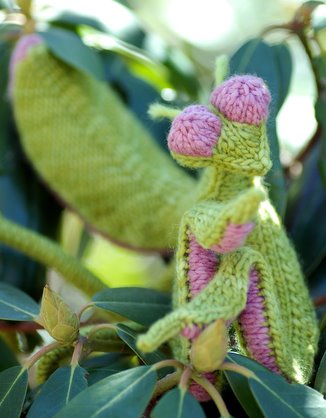 Project Specs
Pattern: Praying Mantis designed by Hansi Singh
Pattern Source: Hansigurumi Etsy Shop
Yarn: Malabrigo Merino Worsted in Lettuce, 47g (99 yards); Malabrigo Merino Worsted in Damask Rose, 29g (61 yards)
Needles: 32" Addi circular size US 4; Clover DPNs size US 3 (for eyes)
Date Started: 3/12/09
Date Finished: 3/17/09
Finished Size: 9" long from head to abdomen
Other Supplies: Six 12" pipe cleaners
Modifications: Picked up 19 sts for eyes and stuffed eyes lightly with fiberfill.
See it on Ravelry!

Praying Mantises are probably the coolest insects ever. Growing up in Ellensburg it was a real treat to see one, not because they're super rare, but because they're so fascinating. They've always been my favorite insect, and when Hansi released this pattern I was so excited! I'm glad I finally got around to it, but I should warn you that this pattern is not for the weary. The construction is pretty intense and there are lots of steps, but it is all worth the effort.
This was probably the most strenuous and rewarding Hansigurumi pattern I've knit yet. None of the methods used are really all that complicated, and if you've knit any other Hansigurumi patterns then you won't run into any new techniques. The construction is very detailed and ingenious, but can also be pretty time consuming and requires lots of concentration. I only ran into one problem which is no more than a typo, where rows 80 and 81 are not listed in the Abdomen and Thorax section. I just left out these rows and it worked out perfectly fine. I also changed the eyes so that I only picked up 9 stitches on the diagonal across the face instead of 11.

This is my first time using Malabrigo for one of Hansi's toys. It did seem a little bit harder to work the intricate increases and decreases than Cascade or Patons at this gauge. I also found that Malabrigo really grips onto the pipe cleaners used to stiffen the legs. I had to seam up the legs with the pipe cleaner inside, instead of sliding them in after. This makes things a little more difficult to handle during the thorax assembly. Plus Malabrigo seems to be a bit more prone to fuzzing when grafting over large areas. However the positives (depth of color, softness, texture it creates) far outweigh the negatives, and I would still use this yarn for any of her patterns I knit in the future.