-George Costanza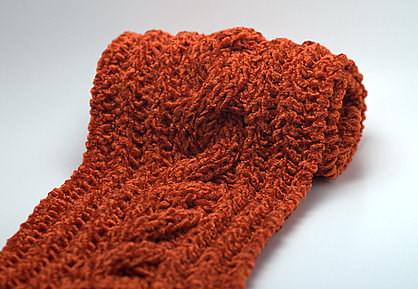 I have finally started on a project I've been wanting to do for a while now! After seeing all the beautiful Vintage Velvets on Flickr, I finally had to start mine. This pattern has been on my wish list for a long time, but I have only had the yarn for about a month (that is a pretty short turn over time compared to most yarn in my stash). I ordered the Muench Touch Me yarn from the Knit Happens sale so I got a good deal on it. I only wish I had ordered more because I think that these scarves would make AMAZING gifts! This yarn is a total dream to work with. It is probably the softest and silkiest yarn I have ever felt! I really love it. I am probably halfway done with the scarf, working on my third ball. Hopefully I will finish with the knitting tomorrow sometime and I have it felted soon after that!
I finally ordered from The Sheep Shed Studio today. I ended up getting 5lbs white, 2lbs black, and 1lb each of red and brown. It was super cheap, and ended up being about $10.00/lb including shipping. I also got a pound each of white and red for Alice when she comes to visit me in Boston in June! I am going to try to teach her how to spin… I guess I better get practicing then! I got most of my roving to try dyeing with Easter egg dye. I don't think that it will be much different than dyeing yarn, except you're supposed to move it around a lot less since it is more susceptible to felting. I got inspired after seeing the beautiful Easter egg dyed yarns at The Sin City Kitty's website! I think they turned out beautifully and the colors are so vibrant.
I just started working on the Felt Inanimate Object competition on Craftster. The project was actually started a while ago but got put off… Today is the first day of submissions, so I really need to hurry! Who knows if I will even finish. Sorry I can't tell you what I am making yet, but wish me luck!