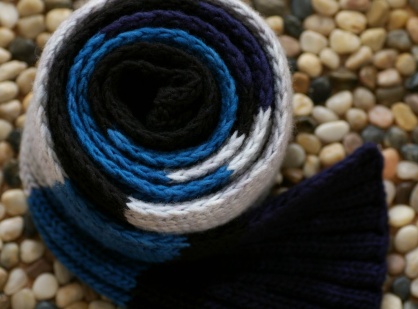 Project Specs
Pattern: Architect Scarf by Suzan Mischer
Pattern Source: Greetings from Knit Cafe
Yarn: Malabrigo Merino Worsted, 84 g Black (181 yds), 57 g Tuareg (123 yds), 54 g Polar Morn (117 yds), and 28 g Marine (60 yds)
Needles: US 10 Denise needles
Finished Size: 79" x 5.5"
Date started: 11/21/08
Date completed: 12/1/08
Modifications: Changed color pattern, slipped both first and last stitches on wrong side to create smoother edges
See it on Ravelry!
When I was searching for possible Christmas gifts to knit for Kenny, Alice told me he specifically pointed out this scarf. I like the simplicity of the Architect Scarf design, but I love the way Mai changed up the color pattern so I tried to mirror it using her pictures. Once I showed Alice the finished product she said it was perfect, and hopefully Kenny will feel the same way.

This scarf really couldn't be any easier to knit! The simple 2x2 rib pattern goes so quickly, especially when knitting on size 10 needles. I redid the start of the scarf several times trying to get the edges to look as nice as possible. After experimenting with a few different techniques, I found that slipping the first and last stitches on the WRONG side of the scarf made the edges look the best. Once you get in the groove the scarf really flies off the needles and you'll end up with an 80" scarf in no time! The only part that was time consuming was weaving in all those ends, but I think that is a small price to pay for such a cool looking scarf.
Malabrigo is the perfect match to this pattern. Knit in the larger gauge and the ribbing pattern it becomes super soft and squishy, and I don't think that anyone would ever consider this yarn to be too scratchy to be worn around the neck! I picked the colors to coordinate with the Koolhaas I made earlier for him. I didn't want it to look too matchy-matchy so I used the Marine blue as the least prominent color in the scarf. I think that it is perfectly fitting to give an Architect Scarf and Koolhaas together as a gift, considering that the Koolhaas hat was intended to mimic the window design of the Seattle Public Library designed by Rem Koolhaas.
If anyone is interested in knitting the same color pattern as I did, here are the approximate stripe lengths after blocking:
14.5" - Black
11.75" - Tuareg
2" - Polar Morn
1.25" - Black
4.5" - Marine
7" - Tuareg
1.75" - Polar Morn
3" - Marine
7.75" - Black
16" - Polar Morn
3.5" - Tuareg
1.75" - Black
4" - Marine