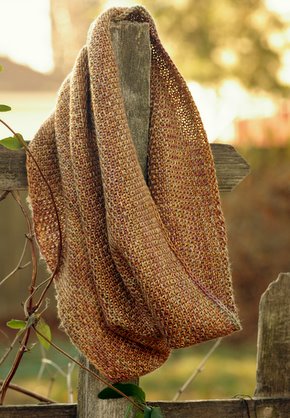 Project Specs
Pattern: Chickadee Cowl by Kirsten Kapur
Pattern Source: Through the Loops! (also available as a free download on Ravelry)
Yarn: Handmaiden Sea Silk in Bronze, 58 grams (254 yards)
Needles: US 8 Denise circular needles
Finished Size: 11" long x 10.5" wide
Date started: 11/11/08
Date completed: 11/25/08
Modifications: Cast on 147 sts on US 8 needles, knit for 11", used fingering weight yarn (pattern calls for bulky), at end knit one row plain and bound off on size 7 needles
See it on Ravelry!
I just love how this cowl turned out! The pattern is super simple and can be modified to work with just about any yarn you want. It originally calls for bulky weight yarn, but I was inspired by Hannah's Spring Chick Cowl and used Handmaiden Sea Silk. The linen stitch pattern is clean and perfectly suited for variegated yarns. Variegated yarns actually enhance the pattern I think! So if you have a random skein of multi colored yarn laying around that you didn't know what to do with before, you should really give this pattern a try.

I'm so glad I finally got the chance to work with Sea Silk. This yarn couldn't be any more beautiful, and the Bronze colorway is just stunning. It is easily the most beautiful yarn I've ever used, and I was surprised at how easy it was to work with. The yarn is a tad slippery but I didn't mind it at all. And other than some pilling at the cast on edge by the time I finished the cowl, I didn't have any complaints at all! I wet blocked the cowl and had read other people had problems with the dye bleeding, but mine didn't bleed at all. I'm not that fond of the smell of wet silk, and it did smell slightly as it was drying however it wasn't overpowering, unlike when I made the Gossamer Stars Scarf. Also after about 24 hours the smell was totally gone! I really cannot wait to work with this yarn again!

The only real problems I had while knitting this cowl were some tension problems at the start which caused the pattern to ripple a bit in places, but after blocking it was pretty much unnoticeable. Also my first attempt at binding off was pretty messy. I had to try several different things before I came up with something that worked; after knitting the length I wanted, I switched to size 7 needles, knit one row (knit all stitches, not working the linen stitch pattern) then bound off.
'll be sending this cowl to my Grandmother for Christmas along with a pair of Mitered Mittens (which I haven't made yet). I'm really sad that I have to part with this knit, but I know that she'll love it so it's all good. I have a few other colorways of Sea Silk in my stash and I know one is destined to be a Chickadee Cowl for myself. :)