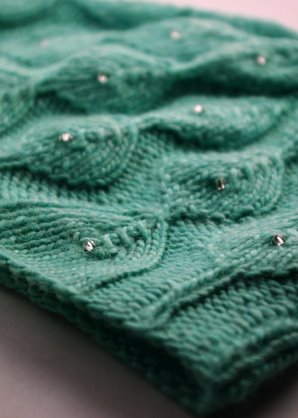 Project Specs
Pattern: Tretta Hat by Grumperina
Pattern Source: Grumperina's Ravelry Store
Yarn: 29g Malabrigo Silky Merino in #413 Ankara Green (87 yards)
Needles: US5 Knit Picks 16" Metal Circular, US5 Clover Bamboo DPNs
Date Started: 11/22/08
Date Finished: 11/23/08
Finished Dimensions:About 6" deep and 18" in circumference
Modifications: Knit on a size smaller needle for a child's size hat
Extras: 30 size 6.0 beads, clear with silver metallic centers
See it on Ravelry!
You have to love a quick knit that turns out as gorgeous as this little hat. It's amazing what thirty beads can do to an otherwise simple hat! I think it also helps to use a beautiful silky yarn in the perfect Tiffany box blue, too. I love how this hat looks like it's wearing its own sterling silver jewelry.

After all the finishing involved in the gnomes, I was looking for a quick and painless pattern to knit. This pattern definitely fit the bill. It's easy enough that you don't have to constantly look at the chart but it's not boring. The beaded rounds are fun to look forward to as you're knitting along. This project could easily be knit in a day, but it was a pleasure to knit in two leisurely evenings of T.V. knitting. If I didn't have some Christmas gifts to get to work on I'd probably cast on for one of these for myself right away!
This is my second project from Malabrigo Silky Merino and I love it just as much this time as the first. It really is hard to find anything wrong with this yarn. It's amazingly soft and every color I've seen is beautiful. The only problem I had with this yarn while knitting my Step Ribbed Stole was color consistency from skein to skein, but with small projects like this hat it's not an issue. This yarn is perfect if you're looking to knit up a luxurious gift—plus you can often find it on sale which makes it a great buy. You can always check out my previous review on Silky Merino if you want more info!