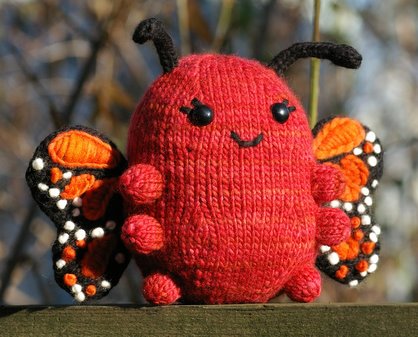 Project Specs
Pattern: Butterfull by Anna Hrachovec
Pattern Source: Mochimochi Land
Yarn: Malabrigo Merino Worsted, 30g Garnet (65 yds) and 16 g Black (35 yds), small amounts of Glazed Carrot and Natural for wing design
Needles: US 6 Denise Clover Bamboo DPNs
Finished Size: 5 ½" tall with a 8.5" wingspan
Date started: 8/23/08
Date completed: 11/21/08
Modifications: Picked up stitches for the legs, left off sweatband, added a mouth and eyelashes, embroidered wings rather than using duplicate stitch.
Extras: Two 12mm black safety eyes
See her on Ravelry!
Hi everybody, this is Luna the Monarch! She is a cousin of Clover, whom some of you have met before. Poor Luna missed the migration down to Mexico this winter, so she's stuck up here in Boston with me, at least until she flies to Camdyn for her birthday.

I started knitting Luna back during the Ravelympics but stalled out once it came time to embroider the wings. I'm not very experienced at embroidery and for some reason it just never comes out the way I envisioned it, but after several attempts I'm really happy with how the wings turned out! I also added a mouth and eyelashes which really add to her sweet personality.
This pattern was really simple to knit, and all the pieces were easily knit in one day (it's a shame I waited 3 months to finish it). I love how Malabrigo works with this pattern; it couldn't be more cuddly. If I were to knit this pattern again, and I definitely use this yarn. I'm really considering making another one to go with Luna, maybe a Tiger Swallowtail or Blue Morpho. Next time I might try fairisle instead of embroidery to make the design on the wings. I think it would be really fun to knit a whole collection of butterflies of different species some day.
Like I said before, Luna will be going to Camdyn for her birthday in December. Every time I talk to Cam on the phone she tells me about this Butterfly Tree House she saw on TV, so I might get that to go along with Luna as well as some books on butterflies and insects.