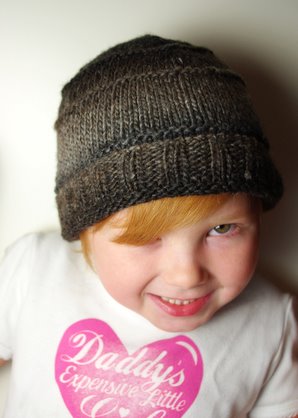 Project Specs
Pattern: Circle Squared by Sarah Fama
Pattern Source: Sarah's Ravelry Store
Yarn: South West Trading Company Karaoke in Durango (#277), 41g (89 yds)
Needles: US8 Clover Bamboo DPNs
Date Started: 11/9/08
Date Finished: 11/10/08
Size Completed: Medium
Finished Dimensions: 18" circumference, to fit 20" headsize
See it on Ravelry!

Well, a couple days ago Grace showed off the hat she made for my husband, Kenny, now it's time for me to tell you about the one I made for her husband, Si! This pattern is one I've wanted to make for quite some time, and since hats are the perfect quick-to-knit gift I casted on for this right after finishing up my Fiddlehead Mittens.
I know Si wouldn't go for the normal Noro color craziness, but when I found this colorway of Karaoke online I knew it would be a good choice for him. Because this yarn was basically all shades of gray, I had a really hard time decided where to put my purl ridges which are supposed to go at every point the yarn changes color. Now that the hat is finished I see that I totally could have put them in different places throughout the hat. Overall it still looks pretty cool, though I'm going to have to make this pattern again with its intended yarn, Noro Silk Garden, which I think will show off the pattern better.

This was the first time I've finished something from Karaoke. I really like the gradual color changes, and it really softens up after washing. I'm not sure how consistent the quality is with this yarn from colorway to colorway. My skein of the Durango colorway was pretty consistent in thickness with no slubs of soysilk throughout. When Grace knit with this yarn a couple of years ago in a different color, it was totally thick and thin (almost lace weight at points). I did encounter the same knot problems that she had. In the first 15 yards of this skein there were four knots, after that it was smooth sailing. You can read Grace's full review of SWTC Karaoke here, and also see her free patterns using this yarn, Simply Seamless Pouch and DS Sock, on our sidebar.

If anyone is looking for a quick pattern to knit up during Norovember I would definitely recommend this hat. Sarah is also donating $20 to Heifer International for every twenty patterns she sells. Another Noro hat pattern I'm dying to try is Jared Flood's Turn a Square hat— I love those stripes!
It feels so good to be back to knitting again, especially since I'm really getting somewhere on the gifts I need to make! Right now I've got another FO drying (this one's for me though) and I'm going to cast on for a pair of Bird in Hand mittens today. Yay for getting stuff done!