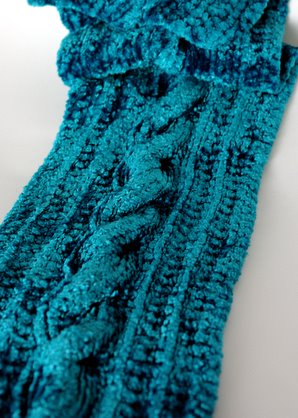 Project Specs
Pattern: Vintage Velvet by Lisa Daniels
Pattern Source: Scarf Style
Yarn: Muench Touch Me in #3609 Turquoise, 5 balls (I had about a yard leftover)
Needles: US 8 Knit Picks Options interchangeable needles
Finished Size: 65" long and 5" wide
Date Started: 8/22/08
Date Finished: 8/31/08
Modifications: None
See it on Ravelry
This is one FO where I loved the process just as much as the final product. This yarn is amazing! While knitting it's soft and silky (though a bit slick) and after felting it's buttery and supple. I was expecting the scarf to feel like velvet, but it turned out even better than I'd hoped.

Grace and I both bought yarn for this scarf at the same time and she knit hers a long time ago. For the Ravelympics I decided to finally make a Vintage Velvet for myself. Unfortunately I didn't finish before the closing ceremonies, but I am so glad it pushed me to finally get this yarn out of my stash and onto my needles! I'm actually glad I didn't rush through the whole thing because it was such an enjoyable knit to sit down with before bed and unwind.
Even though Grace did it before me without any problems, the felting portion of this project really freaked me out. I've felted lots of things before, but certainly nothing this luxurious. I followed the pattern instructions and washed the scarf on hot with some old towels. After this stage of the process really the scarf looks terrible—kind of like a drowned muppet. My advice is not even to try to make any sense of it at the moment, quickly throw it in the dryer without looking at it too much! I dried my scarf on medium for about thirty minutes then switched to low for the final bit. I pulled it out before it was totally dry and hung it up over night. This morning when I woke up I gave it a quick fluff in a no-heat dryer. The overall transformation is amazing!

I'd love to knit this scarf again, although next time I might buy another skein or two to make it a bit longer. Right now it's a nice length to drape around my neck once, but I normally like my scarves a little longer. My only negative for this yarn is the price. It retails for about $15/ball, and since I bought this yarn over a year ago I've rarely seen it go on sale. If I were to knit a larger scarf than this one it could easily run $100 for the project. I'm dying to work with Touch Me again though, so I'm going to be on the look out for projects that can be made with two or three skeins.
I feel a little guilty keeping this scarf for myself, but because of the size I think it will be a nice scarf for Las Vegas winters. Plus, I've been wearing it around all day and don't want to take it off!