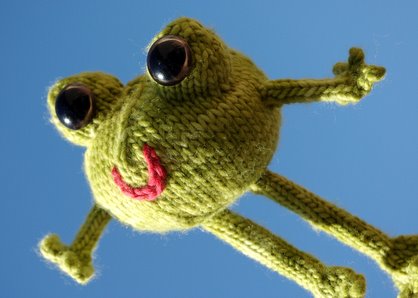 Project Specs
Pattern: Happy Frog by Emily Stoneking
Pattern Source: Emily's Etsy Shop
Yarn: Malabrigo Merino Worsted in Lettuce, about .25 skeins
Needles: US 4 Clover Bamboo DPNs
Date Started: 8/9/08
Date Finished: 8/10/08
Final Measurements: Aboug 6" tall from top of his eyes to the tip of his toes
See Mert on Ravelry!

Since all of you have probably read about Grace and my Olympic Plans by now, I'd like you to introduce you to Mert, who's basically become my own little Olympic mascot! We've been through some pretty tough times since the start of the games (two words: stomach virus) but things are looking up now and I'm hopefully back on track to finish my goals. It's not going to be easy, but the challenge is most of the fun, right?
This quirky little frog was such a fun knit. He was mostly finished in one morning, but I set him down to start on a different project before adding his mouth. Of course I chose to work with Malabrigo. I love how the semi-solid colors really add depth to toys that you can't get with a solid plied worsted weight wool. I think Malabrigo is perfect for little things like this; plus the with the insane yardage in each skein I have partial balls of this stuff everywhere!

I made a couple adjustments while working the pattern. I added an extra decrease round to the body to end up with six stitches; the final row in the body section of the pattern mistakenly says you'll end up with six stitches but you end with twelve. I also knit the eyes from the bottom up rather than the top down since whenever I begin working in the round with a small number of stitches, my cast on always ends up looking a bit sloppy.
Also some of you noticed the little birthday cake icon next to my name on Ravelry this past week, so thank you for the nice birthday wishes! Yes, I'm another year older now—I guess you could say I'm officially in my upper 20's. Yikes! It was a pretty low-key birthday, but I did get to go see Joel McHale perform which was hilarious. I also got a new camera! Yes, I finally upgraded from my old Nikon Coolpix to a new Digital SLR. Thanks, Mom, Dad, and Kenny! It was perfect timing too since my old camera was just about totally done in. I can't wait to experiment more with all the functions and fun stuff this new camera has!