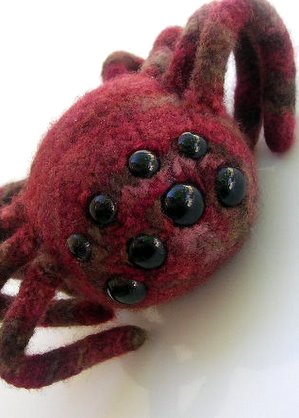 Project Specs
Pattern: Aragog the Spider Monster by Wendy Gross
Pattern Source: Wendy's Ravelry Shop
Yarn: Malabrigo Merino Worsted in Stonechat, about .25 skeins
Needles: US 10 DPNs
Date Started: 7/31/08
Date Finished: 7/31/08
Final Measurements: 5 1/2" wide, with a body the size of a tennis ball
See him on Ravelry!

After I heard a few times that the octopus I made resembled a spider, I decided to give a real spider pattern a go! I remember seeing this creature on Ravelry awhile back, and when Grace told me the pattern had been released I bought it right away. I think this could possibly be my quickest FO ever. I was able to knit and felt this little monster all before lunch today! I also love how quirky he is—who knew a knitted spider could be so cute?
There are so many things that I love about this guy. He is—of course—insanely cushy since he's made from Malabrigo. This was the first time I've felted with Malabrigo. Before I thought it might be a bit of a waste of such a beautiful yarn, but the fabric it creates is so soft and cuddly I would definitely consider using Mal for other felted knits. If you're thinking about doing a felted project where softness is a concern (like stuffed animals, hats, or mittens) I'd suggest you check out Malabrigo. It is so much softer when felted than Patons, Cascade 220, and Lamb's Pride.

Even though this toy is so simple to make, there was something I encountered that I was a little hesitant to try out. This was the first time I've had to attach safety eyes and stuff a toy before felting. I was really concerned that my eye placement would be totally off or I'd overstuff him and he'd turn out terrible but that was not the case at all. I have to say it was so cool to take my toy out of the washer and he was basically finished! It worked out really perfectly since a lot of times I stall out on a project right before adding those finishing touches.
The pattern was really easy to understand, though I wish it included a picture before felting to help with eye and leg placement. Also in the body section where it says to knit eight rows in stockinette stitch I only knit seven to stay consistent with the row numbers.
If you like this spider monster you should check out Wendy's other creatures, as well as her pattern for her Little Monster Bear from the book 101 Designer One-Skein Wonders—it's too cute!