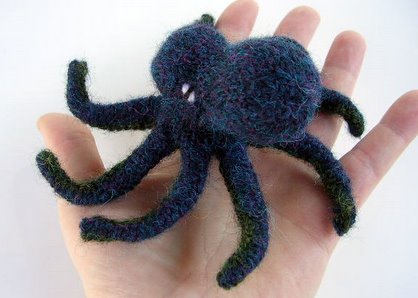 Project Specs
Pattern: Octopus by Hansi Singh
Pattern Source: Hansi Singh's Etsy shop - hansigurumi
Yarn: 10 g Berroco Ultra Alpaca Light in Blueberry Mix (29 yds) and 6g Peat Mix (17 yds)
Needles: US2 Clover DPNs
Date Started: 7/6/08
Date Finished: 7/8/08
Finished Dimensions: 2 1/4" tall and 6 1/2" in diameter with tentacles stretched out.
See him on Ravelry!

It was just about a year ago when Grace made her awesome octopus which started her obsession with Hansi's patterns. I am glad to say that I have finally knit my first hansigurumi creature—a little octopus. This pattern is absolutely awesome, and any troubles I had with it were solely my fault.
A couple days ago I finally got the time to sit down and knit; it had literally been a month since I touched my knitting needles and I really got the urge to knit something at that very moment. Grace told me about the Octopus Knitalong in the Hansigurumi Group on Ravelry so I decided to give that a go. First, I couldn't find a full set of DPNs in the right size to use worsted weight yarn so I picked out some yarn to use with the one set I could find—size 2s. I ended up using some Ultra Alpaca Light leftover from my Fiddlehead Mittens, which was pretty much the first yarn I could find. I don't know what I was thinking because I picked the darkest color possible for the MC, and a pretty dark green for the CC.

I knit the mantle portion of the pattern first and then moved onto the tentacles. At about the third tentacle in I decided to seam up the ones I'd already made. This is when I realized that my yarn choice probably wasn't the right one. The dark colors paired with the fuzziness of the alpaca made it nearly impossible to see the stitches, a problem that also made it very difficult to pick up stitches to close off the underbelly and attach the tentacles together. I also hated my boring color combo. It's totally not my style at all!
Okay, so there are also lots of good things about this little guy. The best thing—Camdyn loves him. I can always count on Cam to appreciate the things I make even when I am not super happy with how they turn out. I do have to admit the size of this octopus makes him pretty darned cute. He's only the size of my hand! I wouldn't hesitate to knit this pattern again in small needles, but I certainly would change the yarn. I'd actually love to give this pattern a try with fingering weight and itty needles to see how big it would turn out. The one problem I encountered by changing the size was that pipe cleaners wouldn't fit in the tentacles. I ended up using floral wire wrapped in floral tape (with extra amounts at the ends to cover the sharp points) to make his legs bendable.

I really expected this pattern to be more complicated than it actually turned out to be. If you wanted, this pattern could be knit up in a day. In fact, mine probably would have if I wouldn't have made such a poor yarn choice! It was so well written and the more difficult parts are fully illustrated with detailed pictures. I can't wait to make another one of Hansi's patterns!