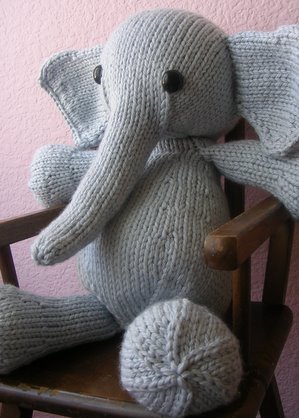 Project Specs
Pattern: Elijah by Ysolda Teague
Pattern Source: Ysolda's Ravelry Store
Finished size: 19" tall
Yarn: Debbie Bliss Cashmerino Superchunky color #16006 (light blue), just over 3 skeins
Needles: Size US9 Addi Bamboo DPNs
Date started: 5/5/08
Date completed: 5/7/08
Modifications: Knit at larger gauge, omitted purl rows at arms and legs, knit arms separately and used fake grafting to attach, used three needle bind off at ears
Extras: Two 18mm safety eyes
See him on Ravelry
Okay, so I know I said I was going to get started on some Christmas knitting—and this was originally supposed to be an x-mas gift for Camdyn—but after I got it half-way finished I knew I couldn't wait over seven months to give it to her. This guy is just so cuddly and cute I wanted to see the look on Cam's face when I gave him to her as soon as possible.

Of course Camdyn loves him! He is so big and so soft, how could you not want to squeeze this cutie? He's already been carried all over the place, as well as even used as a pillow. As you can see he is much bigger than the original Elijah. The pattern calls for DK weight yarn, but I decided to go with some stashed Debbie Bliss Cashmerino Superchunky. You may remember I used this same yarn for my Super Mittens, and I absolutely love it (though I am still not too fond of the aran weight version of this yarn). Really it is one of the softest yarns I've ever used. It's right up there with Malabrigo, although it's a totally different kind of softness. Malabrigo is soft and fluffy like clouds, Cashmerino is soft, smooth, and with a nice sheen. So far I haven't seen any pilling on Elijah. He's knit at a gauge of 4st/inch rather than 3st/inch which is the recommended gauge for the yarn. I hope that this tighter gauge curbs some of the pilling, at least for a little bit.
I made a few changes to the pattern, some were intentional and others were just me misreading the pattern. I accidentally left out three rows while knitting the first leg, so instead of ripping I repeated my mistake on the other leg, as well as taking three rows out on each of the arms so they wouldn't look too long in comparison. Also, by the time I got to the arms, my Elijah was getting very hard to maneuver. Instead of picking up stitches for the arms I knit them separately and later used fake grafting to attach them. This was so much easier on my wrists, as Elijah was getting really heavy since each piece is stuffed as you go. I wanted my arms to lay a little flatter to the body, so I attached them straight across at the tops, rather than in the square formation in the original pattern. I also left off the purl rows on the arms and the legs. I just wanted to keep him looking sleek and smooth. For the ears, I decided to end them with a three-needle bind off instead of kitchener because I can never get it to look as clean as I'd like!

Just like in Otto, the decreases on the head are in a very prominent place. If you remember I wasn't too happy with my SSKs before. This time, taking the advice of Jason, I used this method from TechKnitting. I absolutely love it! I would say it looks pretty darn near identical to my K2TOGs. I don't think I will ever do another SSK again. I absolutely would recommend this method. It takes just a tad longer than a normal SSK, but it is totally worth it. Thank you so much Jason for recommending this!
I must admit, my knitting attention span has been even shorter than normal lately. For some reason I couldn't motivate myself to put the ears on this guy! He ended up sitting around for about half the day yesterday unfinished until I finally started on the ears last night. I don't know what's been up with me lately but I can knit like crazy on something and be super excited about finishing it and still stall out in the end! I don't know what it's going to be, but I need to knit something soon that can fully restore my mojo!