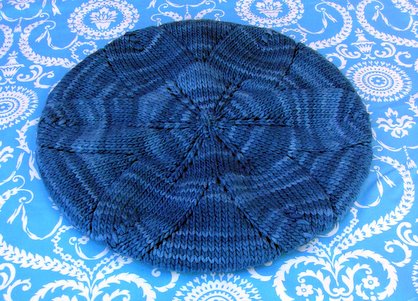 Project Specs
Pattern: Verity by Ysolda Teague
Pattern Source: Ysolda's Ravelry Store
Yarn: Malabrigo Merino Worsted, 81g Tuareg (175 yds),
Needles: US 8 Knit Picks Options Circulars and Clover Bamboo DPNs
Size Completed: 22" head circumfrence
Date started: 3-11-08
Date completed: 3-16-08
See it on Ravelry!
The Malabrigo March Madness continues… really I think this yarn can do no wrong. Every time I knit with it I fall more in love with the colors and the feel. I love the halo and how it plumps up after washing. I really do love everything about it. I am going to be sad when this month is over, and I'll need to get on to making other non-Malabrigo knits.
Pretty much within five minutes of seeing the Verity hat pattern pop up on Ravelry I had purchased it and printed it out. I've seen lots of these slouchy style hats knit up and they always seem to turn out so cute, so I was dying to make one of my own. Well, I'm not so sure this is the best style of hat for me. I already have a biggish head, and the slouchy-ness just accentuates it more. It's definitely a comfortable hat, though I think I'll have to play around with it some to decide if it looks good enough to wear out of the house come winter.

Although I own a few of her other patterns, this is the first design I've knit up by Ysolda. Boy is she a talented designer! She really creates such pretty things. I really enjoyed knitting this pattern. It was very well written and cleverly constructed. I'm really itching to knit Gretel now—even if the slouchy beret style doesn't look the best on me! I also cant wait until the pattern for this little bear comes out. Isn't he the cutest?
My start and finish dates on this project are a bit deceiving. Though it took me almost a week to finish, the main section of the hat was knit in one evening. The hat is knit from the top down and has a very unique band construction. The band is knit in a pretty slipped stitch pattern which is a little time consuming. I worked on it on and off for a few days and only inches at a time. I probably could have done it faster, but this stitch pattern wasn't as intuitive for me to knit as some. It does produce a pretty and firm hat band. It really seems like it won't stretch out of shape and will keep the hat on my head while wearing it.
Though I like the band design, it's probably the only thing I would change if I knit this hat again. It really took me quite awhile to do, and I think I would keep it simpler by doing 1 ½" of seed stitch at the bottom instead and omit the faux button tab. I think with these modifications this hat would be a one or two day knit at most.
Another thing I'm loving is the addition to pattern stores on Ravelry! I've already used the pattern store feature a few times already and it's worked flawlessly. You can immediately download the patterns and they're also stored in your library. This is a really great feature if you don't always use your home computer, or if an accident happens and you lose your files. I recently got our Hawkeye and Kiddie Cadet patterns added to my Ravelry Store. It's very exciting that our patterns are now available as instant downloads! The only thing that I haven't figured out yet is how to search for patterns to buy on Ravelry, so if you have a pattern up for sale leave a comment and let me know!
Also if you haven't seen it yet, check out our latest review on Malabrigo Silky Merino! I'm also planning on doing another Malabrigo related review before the month is over, so stay tuned.