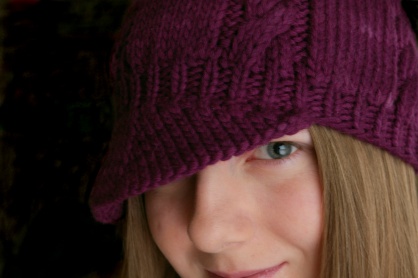 Project Specs
Pattern: Headline News – Cabled Newsboy Cap designed by Shannita Williams-Alleyne
Pattern Source: Stitch 'n Bitch Nation by Debbie Stoller
Yarn: Blue Sky Worsted Hand Dyes color #2004, 1.3 skeins (130 yards)
Needles: US 8 and 10.5 Denise Circular needles and 10.5 DPNS
Date started: 3-14-08
Date completed: 3-14-08
See it on Ravelry
I know lately that when I finish a project I usually say that it's been on my to-knit list for a long time. Well this is the ultimate "have been meaning to knit this" since day one pattern! When Alice taught me how to knit, the two books she had at the time were Stitch n' Bitch and Stitch n' Bitch Nation. When I was browsing the patterns, I immediately loved this hat. Why I didn't start it until now? I don't know!

This hat was so easy and quick! Since it's mainly knit on US 10.5 needles, the body of the hat really flies by. The cable pattern is very simple too and you'll have it memorized before you even start. The brim is done in an interesting way, with a certain number of stitches picked up at the start, then more stitches picked up as you work it. I opted not to insert anything inside the brim to make it stiffer. I like not having to worry about the insert getting bent or creased, plus it seems surprisingly sturdy without it. The simplicity of the pattern pretty much speaks for itself, and it is definitely a suitable for a beginner.
One problem with this hat is that the ribbing is not tight at all, especially after washing. The next time I go to the craft store I will look for some matching elastic thread to weave into it. Maybe knitting the ribbing on size 7 needles instead of 8's would have helped some too.

I decided to use the suggested yarn, although I remember thinking how insanely expensive it was when I first saw the pattern. I actually still think it is overpriced, but luckily I found a good deal on it. I was kind of disappointed as I worked with it, the yarn dried out my hands and it was also a bit splitty. However it is soft and warm, and I really like the way it is dyed. I think the color is gorgeous! I haven't ever knit anything purple before, can you believe it?? I still have 70% of the second skein left, which I'm hoping will be enough to make a matching pair of Fetching mitts like the ones goldiegirl posted on Ravelry. Anyways if you're not looking to spend so much money on a hat, I'd suggest knitting this pattern in Malabrigo Merino Worsted or Brown Sheep Lamb's Pride Worsted.
I've been wearing my new hat around all morning, and I can't wait to wear it out! I really like wearing the bill a bit to the side, even though I am sure that is like so 5 years ago… I think it's a really cute hat that I'm sure I'll wear all the time!