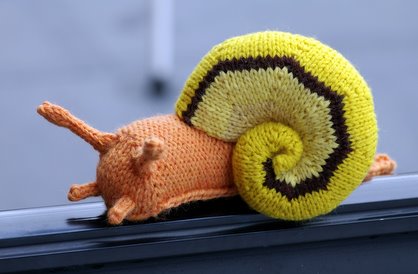 Project Specs
Pattern: Garden Snail by Hansi Singh
Pattern Source: Hansi Singh's Etsy shop - hansigurumi
Yarn: Shell: Cascade 220 in #4147B Lemon Yellow, #2439 Gelato, #7828 Neon Yellow, and #9408 Cordovan
Body: Cascade 220 in #2436 Mimosa
Needles: US 4 DPNs
Date Started: 2/24/08
Date Finished: 2/27/08
Finished Dimensions: 8" long
See it on Ravelry!
This is the latest Hansigurumi toy, and I know I say this every time, but how does she come up with these things?! I love this guy (I know I also say this every time I knit up one of her designs), and will surely be knitting several more in the future! I just can't get over how creative Hansi is, and yet again this design is a stroke of genius.

The snail is knit in two parts – the shell and the mantle. The construction of both pieces are surprisingly simple. I think that any knitter who is familiar with increases, picking up stitches, and Kitchener stitch would be able to create one without a problem. Some seaming is required to attach the two pieces at the end, but the seam is hidden under the edge of the shell so it doesn't have to be immaculate. I did have a little bit of a tough time wrangling my dpns while knitting some parts of this guy, but I blame it on the fact that I was using a set of four 5" needles (it used to be a set of 5, but I lost one). 7" DPNs would have been a lot easier to control, and it would have probably been even better to use two circular needles. I am going to be investing in some better needles soon!
Before I knit my snail, I sifted through some real life snail pictures for inspiration. Snails come in a lot of great color combinations, so you can knit a realistic looking snail without just using brown and gray. I chose which colors to use based on this photo that I found on Flickr of a yellow and brown snail shell. Wouldn't it be cool to make a snail inspired by this photo? Or how about a snail that is colored like Gary from Sponge Bob? There are so many possibilities so don't be afraid to be creative when making your own!

I love how this is such an oddball knit. It is fun, wacky, whimsical, and yet realistic at the same time! I mean a knit gastropod… who would have thunk it! Not only does this pattern make a great snail, but leave off the shell and you've got a perfect slug. I've already decided to knit a slug for my niece's first birthday coming up in April. Of all the previous Hansigurumi toys that I've knit, I never really thought that they would be suitable for babies. However the snail really seems to be kid/baby friendly. I know that I would have loved to have a toy slug to play with as a kid, but that is probably just a side effect of watching too much TV.
I think that I will be knitting up a few slugs for myself as well. I'm feeling the urge to create a giant gastropod army to do my bidding… In my opinion a knit slug is better than the real thing, you get all the fun without the slime!