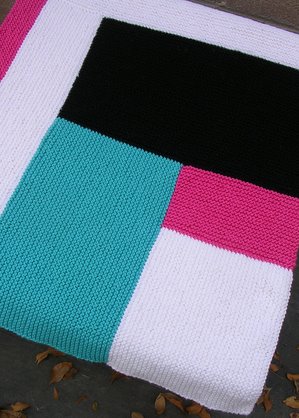 Even though my niece's birthday isn't for another two months, I decided to get started knitting her birthday present. I've been really itching to make a blanket lately, so this was the perfect opportunity to do that but on a smaller scale. The pattern I chose is the Moderne Baby Blanket from Mason-Dixon Knitting. I love the simplicity of the big blocks of color and, of course, the garter stitch. As I've been knitting along on this blanket, I've been thinking that I'd love a full-sized version for myself!
I chose to use some of my seemingly never ending stash of TLC Cotton Plus. When I first learned how to knit, I didn't realize the different characteristics of various fibers and purchased a bunch of this yarn with a gift certificate thinking I could use it for any worsted weight pattern. Well, once I figured out that wasn't the case I was I little frustrated that I had so much of this yarn and no clue what to make with it. Now though, I'm starting to appreciate this yarn more and more. There really are lots of great uses for it especially for kid's items. I am actually glad I have it on hand to use when the time is right!
So far I've finished the six smaller blocks in the pattern and started in on the seventh. They actually moved pretty quickly, but I can see the larger color blocks starting to drag on. I'll be picking this blanket up on and off in between projects and work the rest of it in small bits. Even though I'm still excited about knitting it, there are so many other projects that I want to knit in the meantime.
I hope to make a couple more items that fit into the current Project Spectrum color theme—Fire—before the end of the month. Once March rolls around though, it's going to be all Malabrigo all the time. The Malabrigo Junkies Group on Ravelry has declared next month will be Malabrigo March. There are knit-a-longs, contests, and prizes too! I'm planning on participating in the Koolhaas and Chevalier Mittens knit-a-longs, and maybe some others as well. I really love working with Malabrigo, and I'm really excited about the projects I have planned.