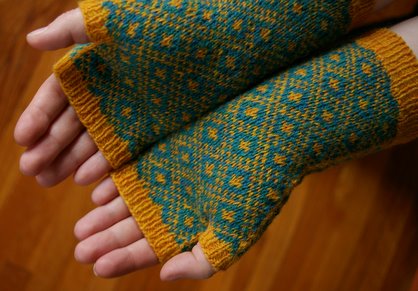 Project Specs
Pattern: Endpaper Mitts by Eunny Jang
Pattern Source: See Eunny Knit
Size Completed: Large, 9.5" long
Yarn: Harrisville New England Shetland in colors #4 Gold and #13 Peacock, less than one skein of each.
Needles: US0 and US3 Clover DPNs
Date Started: 2/1/08
Date Finished: 2/12/08
Modifications: Knit "seam stitch" on at edge of mitts instead of purling, cast on using the Long Tail Tubular method, and bound off in k1p1 rib.
See these mitts on Ravelry

Wee! My first go at stranded colorwork was a real success! I finally finished up my Endpaper Mitts yesterday, and am so happy with how they turned out. I've always been a big admirer of other people's Endpaper Mitts, and never really thought that they would be a project for newbie but this pattern was a really good introduction to fair isle. Even though the color pattern is simple, I think it looks pretty impressive!
The New England Shetland is definitely a great choice for colorwork. The colors are vibrant and slightly heathered (I am so into heathered yarn at the moment). It also has great stitch definition, which makes the color

pattern really pop. It may feel a little rough in the skein, but it definitely feels softer knit up. I washed these mitts in a bath of lukewarm water and some Soak, which not only helped soften them, but also left them smelling great! Washing also evened my tension some too.
I did change a few things as I went a long. First I cast on using the Long Tail Tubular method (there is a great tutorial at Ysolda). Next, I changed the "seam stitch" from purl to knit. For some reason it always looked a little odd to me. Lastly, I bound off in k1p1 rib instead of doing a tubular cast off. I tried the tubular cast off several times, but it always ended up looking a bit sloppy. I just made sure to bind off loosely in the pattern and it turned out just fine! As I was knitting these, I was afraid that they'd be too tight, but they are fitting better now after washing and a bit of wear. They've stretched to a snug but very comfortable fit.

The weather has been very chilly here in Boston, and I've had a hard time keeping my hands warm while I type. I can tell that these mitts will be getting a lot of use. I'm wearing them right now as I write this post! They're just what I need to help keep me productive throughout the winter.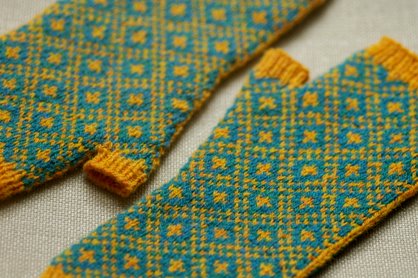 This pattern has got me really excited about fair isle. I've already ordered Selbuvotter – Biography of a Knitting Tradition. It has some beautiful mitten and glove patterns I can't wait to try out. I've also been eyeing the Composed Mitts, Double Thick Mittens, White Witch Mitts, and Fiddlehead Mitts just to name a few! Stranded colorwork is a technique I'll be using a lot more in the future. :)