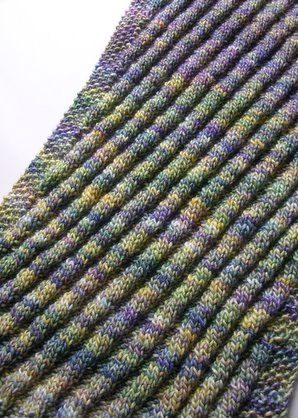 After finishing up Camdyn's sweater, I decided to start some purely self indulgent knitting. I received some absolutely gorgeous yarn for Christmas from Grace, and I couldn't wait to use it!

The yarn is the new 50/50 Silk and Merino wool blend from Malabrigo. Silky Merino is everything you would expect it to be! Just imagine the softness of normal Malabrigo Merino, now double that and you've got Silky Merino.
It took me awhile to find a pattern that was worthy of this truly gorgeous yarn. I attempted a couple of stitch patterns until I remembered seeing the Step Ribbed Stole pattern in The Knitter's Book of Yarn. After looking at the pattern a second time I realized although Silky Merino is heavier than the yarn called for, I could easily take out a couple of pattern repeats and still achieve the same effect. I decided to cast on 76 stitches and work on size US9 needles. I've knit two of my five skeins so far and it's looking absolutely amazing!

I know by now you guys are wondering where to get this awesome yarn… well, I have to say I'm not sure! Ravelry says it has been released on the West Coast and will be available nationwide later this year. It also looks like it can be pre-ordered here. If you've seen this yarn for sale anywhere please let us know in the comments!
Also, if you'd like to learn more about Grace and me, head on over to Adrienne's Blog, Real Life: Live & Unscripted. There's an interview she did with us about our blog, designs, and knitting. You can find out quite a bit about us, including where the name of our site, Kathryn Ivy, comes from. Head on over and check it out! Bookmark Adrienne's site while you're there—she's an avid seamstress, knitter, scrapbooker, and photographer and always has something fun to write about!