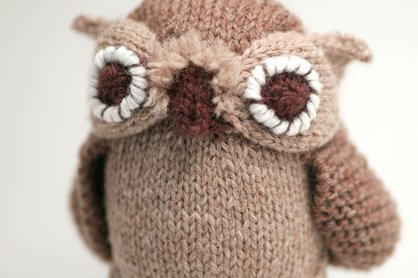 Project Specs
Pattern: Horned Owl by Hansi Singh
Pattern Source: Hansi Singh's Etsy shop - hansigurumi
Yarn: Cascade 220 in #8012 Doeskin Heather, approx. 30 yards; Cascade 220 in #8013 Walnut Heather, approx. 65 yards; Patons Classic Wool in Taupe, approx. 10 yards; small amounts of Patons Classic Wool in Winter White for the eyes.
Needles: US 4 DPNs and US 3 DPNs for the eyes only
Date Started: 1/3/08
Date Finished: 1/10/08
Finished Dimensions: 7" tall with a 7.5" wingspan
See Mr. Wise on Ravelry
I have to start off by saying that this is one of the most ingeniously designed patterns that you will ever find. Each piece is knit off the previous one by picking up stitches which really reduces the amount of seaming that you would expect on a toy like this. In fact there is only one seam on the entire body of the owl. The eyes and feet are knit separately and do need to be attached at the end, but that is really simple. Somehow as you knit, the stitches on the body take on the look of feathers, especially in the heathered yarn, and the feet look almost scaly. Simply perfect!

Almost all of the shaping is created entirely with short rows. As I was knitting this I was wondering how anyone could come up with something so complex but at the same time uncomplicated. It isn't difficult to knit, but I wouldn't recommend this pattern to a beginner by any means. There is a lot going on so you need to feel comfortable with short rows, knitting in the round in a tight gauge, picking up stitches, and being able to follow detailed instructions well. It may be a good idea to go to a quite place especially when you're knitting the head and body, and make sure you bring a highlighter or pen to keep track of which row you're on. The pieces come together rather quickly and before you know it, you'll have an owl on your hands!

The only thing that wasn't really described in the pattern was how to do the bits of fluff around the beak, so I'll tell you what I did. First, cut a piece of yarn about a foot long in CC1 and thread it onto your tapestry needle. Thread the yarn under one half of one stitch next to the beak and pull it until you have about ¼ to ½ inch of yarn on one side of the stitch. Trim the other end so that both length of yarn are the same on either side of the stitch. Repeat until you have looped yarn around stitches across the top of the beak. Then take your tapestry needle and separate the individual plies of the looped yarn. They will fluff out and you can trim them to the exact length you want. Don't be too rough or you'll pull them out. Since the fabric is very tight, the strands of yarn will be held in place and won't fall out. Repeat these steps on the stitches above the feet and you have a perfectly fuzzy little owl!
So if you can't tell by now, I love this pattern! I've made both the Octopus and Squid-A-Licious Hansigurumi patterns and those patterns are awesome, but this owl tops both of them in my opinion! Not only is this my first knit of 2008 (I know it is a little late) but it is also one of my most favorite knits of all time. Seriously, if you don't have this pattern and you're looking for a bit of a challenge go buy it! It's definitely worth the $6.00. Also go check out her shop because she recently added a new cuttlefish pattern which I'm dying to knit too.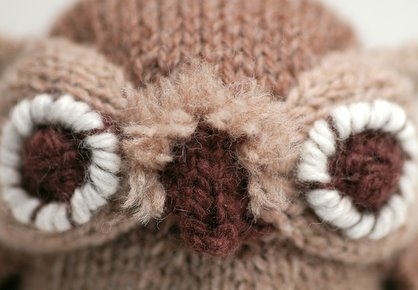 Si suggested that I name this owl Mr. Wise, so that is what I will now call him, but seriously what is Si's obsession with naming knitted toys after I Love New York 2 cast members?