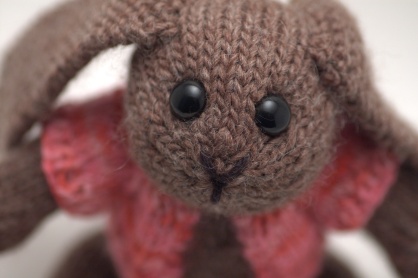 Project Specs
Pattern: Bunny with Hoodie designed by Barbara Prime
Pattern Source: FuzzyMitten.com
Yarn: Brown Sheep Lamb's Pride Worsted in Color M02 Brown Heather, less than 1 skein (110 yards)
Needles: US 6 DPNs
Date Started: 10/27/07
Date Finished: 11/1/07
Modifications: Knit all the pieces in the round, except for the legs.

This is one of those projects that I'm really excited about! I finally got around to making a Fuzzy Mitten toy, something that has been on my to-do list for about a year now. This sweet little bunny will be going to Camdyn for her birthday. She'll be turning 3 in December, and since she is getting so much older, I thought she'd enjoy playing with a toy that she could pose and dress up. I plan on making a bunch of clothes to go with the bunny, and that's what I am knitting now. I want to also include a little birth certificate, but it's so difficult to come up with names. Do you think I should name her ahead of time, or wait and let Camdyn name her?
Even though I am having a hard time naming her, she was a breeze to knit and fun too! The pattern was really clear and easy to follow, plus it was a lot less work than I thought it would be. All of the individual pieces are small, and I had no problem converting the arms, body, and head to be knit in the round. I knit the legs flat, because I didn't really want to figure out how to turn the heel. Seaming up the foot and leg wasn't difficult anyways. One of the major reasons I kept putting off knitting this pattern was because I thought it would be a lot of work to assemble all the pieces once they were knit, but it wasn't at all. It was definitely less work than assembling the Jess Hutch Bunny, and I like the results better.

My favorite parts of this bunny are her face and ears. I just love how the ears are knit in garter stitch, and that they're so big and floppy. I used 12 mm black acrylic safety eyes and black wool to embroider the mouth and nose. The eyes may be a little big, but really who doesn't love a stuffed animal with big eyes? I think that they give her personality. It is amazing how cute all of Barbara Prime's toys are, and I really want to make every single one of them! If you don't have any of her patterns yet, you should check out them out! She has a bundle of 10 patterns for $25.00, and you can download them instantly. She also has some clothes patterns for sale, which I've already bought and can't wait to knit!
Speaking of clothes, I have one special item already finished. The other day I knit her a little Anthropologie Capelet. I modified the Reversible Winter Capelet pattern by Julie Allen at Peony Knits to fit an 8" tall bunny. Here is the pattern if you'd like to make your own!
Bunny's Capelet (modified Reversible Winter Capelet)
Size: Fits 8" bunny
Needles: US 3 straight needles
Yarn: Araucania Atacama in color #501
Gauge: 6 sts/in

CO 37 sts, work in k1p1 rib for 3 rows.

Increase Row 1: k2, p4, yo, pm, p1, yo, pfb, p3, pfb, yo, pm, p1, yo, p11, yo, pm, p1, yo, pbf, p3, pfb, yo, pm, p1, yo, p4, k2
Increase Row 2: knit
Increase Row 3: k2, p to marker, yo, sm, p1, yo, pfb, p to stitch before marker, pfb, yo, sm, p1, yo, p to marker, yo, sm, p1, yo, pfb, p to stitch before marker, pfb, yo, pm, p1, yo, p to last two stitches, k2.

Repeat Increase Rows 2 and 3 until there are 22 stitches between markers 1-2 and 3-4, ending with Increase Row 3. Knit 1 row.

Next Row: k2, p to marker, place 22 sleeve stitches on waste yarn, p across back, place second sleeve stitches on waste yearn, p to last two stitches, k2. K1 row.

Work k1p1 rib for 2 rows, bind off in rib.

Place one set of sleeve stitches from waste yarn onto a needle and work in k1p1 rib for 2 rows, bind off in rib. Repeat for second sleeve. Seam up undersides of arms and weave in ends.
I hope you enjoy this little pattern, and be sure to check out the original, human sized version! I'll be posting other clothes I've made for this bunny soon!