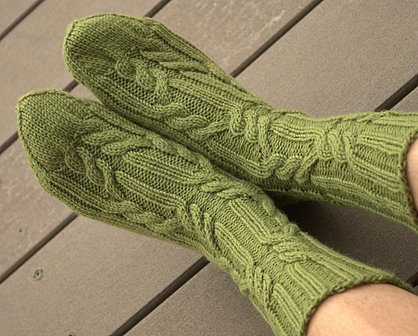 Project Specs
Pattern: Log Cabin Socks
Pattern Source: Handknit Holidays by Melanie Falick
Yarn: Cascade 220 Superwash in #481 Moss, 1.1 skeins (110g)
Needles: US 5 DPNs
Date Started: 9/25/07
Date Finished: 10/1/07

Yay! I finished my first pair of socks just in time for Socktoberfest! I am really happy with how they turned out. They're just my style, with the chunkier than your average sock yarn and cables. I am a little sad that I'm giving them away to my mom for Christmas! I am definitely going to have to make a pair of myself after the holidays. I was surprised at how simple the pattern was, and it turned out to be a good introduction into sock knitting. The cable pattern is pretty easy to memorize, and once I got familiarized with the pattern it seemed like they just flew off the needles!

I love the choice of Cascade 220 Superwash for these socks. The yarn is soft and will be really warm on those cold winter nights. Superwash was an absolute must because my mom doesn't like handwashing things. Also the color is just perfect for her! When I make myself a pair, I am definitely going to use this yarn. I only wish that I could have gotten the pair of a single skein, but I had to break out a second skein to finish the toe on the second sock.
I followed the instructions exactly, and the only thing I would do differently next time is try just picking up stitches along the heel instead of picking up and knitting them. I was surprised at how easy it was to actually make a heel, although I admit mine is not perfect and there may be a few little holes. Once I got to the foot of the sock, the knitting went super fast. I started the toe right after Row 15 of the chart. Hopefully they won't be too long for her… I really don't want to rip out the toe and reknit them on Christmas!

I consider these socks to be almost more like slippers than anything else. They're really thick and cozy. I can just imagine wearing them around the house on a cold day while curled up in a blanket and drinking hot chocolate. I enjoyed sock knitting more than I thought I would. I didn't suffer from Second Sock Syndrome, in fact I liked knitting the second one better than the first! I can see knitting a few more socks in my future, but I probably wont get around to it for a while. Do you have a favorite sock pattern you think I should give a try? I can see why people get addicted to making them, it's just like knitting toys or felting!
This pattern was definitely fun, quick, and very satisfying! I like how it is a great unisex pattern so you could make a pair for anyone. I was thinking that the cable pattern would look neat as a pair of arm warmers too. Anyways if you haven't already given this pattern a try, I'd highly recommend doing so!