I can't believe it! I won my first blog contest last week! Alexis from The Longest Yarn had a contest where you had to guess the length of her scarf, and I guessed the closet to the actual length. Although I am practically a professional blog contest enterer, I have never won any of these before. She sent me two skeins of Araucania Atacama color #503, which is shades of purple. It is seriously yummy yarn! I am just in love with Atacama, and I need to figure out what I want to do with these. It's enough for the lining of another pair of Little Snugs, but I was thinking they would make some beautiful gloves or mittens like these Pomatomus Mitts. I also received a few extra goodies along with the yarn, a felt "Knitonium" patch and three beautiful stitch markers! These are the first fancy stitch markers I have ever owned! Thank you so much Alexis!! You should check out her blog and the gorgeous My So Called Scarf she is knitting.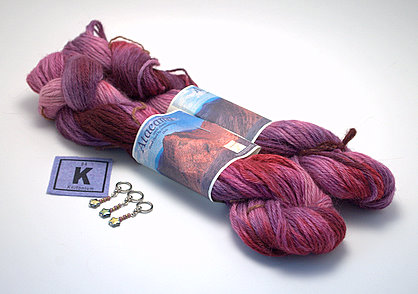 Yesterday I finished up my first Log Cabin Sock. I was surprised at how quickly the foot part came together. I am working on the ribbing on the second one right now, and hope to have the pair finished sometime this weekend. Usually I would have a photo for you, but I am going to wait until they're finished to reveal them! After I finished, I realized that I knit the ankle part really tight which worries me a bit. I don't want them to cut off the circulation to my mom's foot! I'm also a little concerned that they will be little long for her, but I guess I'll just have to wait and see! For all you sock knitters out there, when your making socks to give as a gift how do you know you're making them the right size?
In other news, Hansi Singh has a new owl pattern for sale in her Etsy shop! I love it! I am seriously tempted to drop everything I'm knitting and cast on this very second. I looked over the pattern and the instructions are very detailed. And like all of her other patterns, there are a ton of pictures to help you along the way. I think I have all the yarn I need already, and I'll have to squeeze this project into my gift knitting schedule! Would anyone be interested in a Hansi Singh toy knitalong? I promise it would be better than my Icarus KAL! This way we can help each other out if we get stuck on some part of the pattern, since some of the techniques she uses are advanced. If anyone is interested we could set up a Ravelry group and meet and discuss there!
Lastly I wanted to quickly mention that I have been reading all of your comments on the Knitting Journal Pages. Thank you so much for all your compliments and suggestions!! I've been working on a few more pages which I will finish up tonight and post this weekend, so be on the look out for those. Also I wanted to point out another sale I found this morning. Amy Butler's shop is having 40% off her handbags, pillows, and notebooks, so you might want to check it out! The promo code is SALE. I am seriously tempted to get the Olive Poppy Pearl Bag…