The weather has been particularly nice here in Vegas, which means we can finally open up our windows, turn off the AC, and enjoy less than 100 degree temperatures. It's my favorite time of year here and I've felt compelled to work on some things around the house that I've put off for a long time.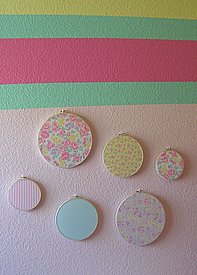 Camdyn's room has been painted since before she was born (thanks to my older sister), but it's lacked some of the special finishing touches it needs. I decided to start by doing two simple projects that I've been seeing all over Flickr and blogland.
First, ever since I saw the idea for swatch portraits posted on the Purl Bee Blog, I knew at some point I wanted to incorporate them into my home. I love how it showcases all the fabrics that inspired the colors of her room! These were simple and fun to make, and I think they look great, don't you? There are so many other great examples of this project in the Swatch Portrait Flickr Pool. It makes me want to have some in every room in my home!
I also had fun doing this last little project, though I'm not sure how long it will last. Colorful bookshelves have caught my eye when browsing Flickr and design blogs, and although I certainly don't have a huge vibrant book collection myself I couldn't resist somehow making this idea work. Last week the thought of using Camdyn's multi-colored children's books finally came to me, and after half an hour of fun rearranging we had a beautiful rainbow of books.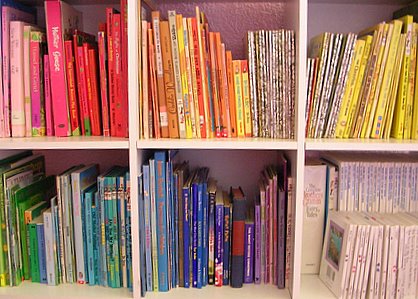 This next week it's time to tackle some outdoor projects so we can really start to enjoy the beginning of Fall!