I've been working on organizing my office and craft room and I came across a few FOs that I never got a chance to post about! I'm excited to get to show you some things that never got their 15 minutes of fame… so today I bring you…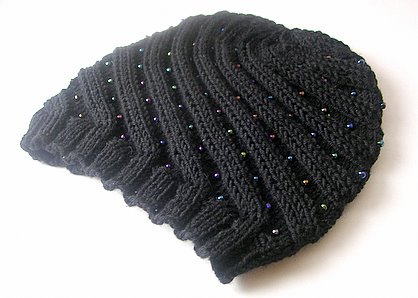 Project Specs
Pattern: Odessa
Pattern Source: A free pattern by Grumperina, for Magknits
Yarn: Cascade Yarns Bollicine Dolly Color #105 Black, about 140 yds
Needles: US 4 and 6 Addi Turbo circular needles
Date Started: 2/4/07
Date Finished: 2/6/07
Modifications: Knit until the hat measured 6" before decreases instead of 5.5"

I started my Odessa hat right after I finished my first Inga hat. I really must have been in a hat knitting mood, because right after I finished my Odessa, I knit up a Fake Isle hat! I really enjoyed knitting the Odessa pattern. It kept my interest, yet it wasn't so difficult that I needed to keep looking at the pattern over and over. This was the first time I used beads in my knitting, and it was much easier than I anticipated. The only think that irked me was that I encountered a knot in the yarn about an inch in into knitting the hat and I had to restring all my beads!
I chose a DK weight yarn made by Cascade called Bollicine Dolly. It's 100% extrafine merino and felt really soft in the ball. It's not quite a soft knit up but it is certainly still comfortable enough to wear next to the skin. The beads I used were cheapo purple iridescent beads from Michaels, and I like how they shine all sorts of different colors!
I can definitely say I will be knitting this hat again. I think it would look pretty with Swarovski crystal beads, and would even look great without beads at all!
*I tried so hard to get a decent picture of this hat... but it just wasn't happening! Finally I decided this was the best I could do.