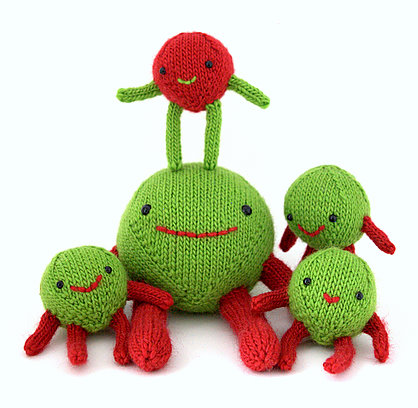 Project Specs
Pattern: Spherey Sprouts
Pattern Source: Modified Spherey from Unusual Toys to Knit by Jess Hutchison
Yarn: Brown Sheep Lamb's Pride Worsted in Limeade and Blue Blood Red.
Needles: US6 DPNs
Date Started: 8/8/07
Date Finished: 8/12/07
Finished Dimensions: Body 2.25" in diameter, 4" from head to toe.

Here come the Spherey Sprouts! They love to love to jump and play all day long, and only take a break to eat buckets full of candy. Their names are Sandy, Sonny, Sally and Bob. Bob is the clown of the bunch and loves candy and fun even more than the others! Their eternally happy nature was passed down from their papa. Smitty has become really busy now watching over his super silly and playful litter.

Okay I've gone a little Spherey crazy I guess! Spherey Sprouts are a really easy modification of the regular Spherey pattern. For the bodies, knit Rounds 1-11 (42 sts), then knit 4 rounds, then knit Rounds 42-50. The arms and legs are 6 stitch I-cords, 9 and 15 rows long respectively. Following these directions you get a Spherey that is almost exactly half the size of the original. The eyes are 6mm black plastic safety eyes, and the mouths are embroidered using the same yarn as the arms and legs.

I really love how round and cute these guys turned out! That's a great thing about the Jess Hutch patterns; they can be scaled down or up easily. Alice and I were thinking that these little guys would make adorable Christmas ornaments. You could knit them out of white yarn and turn them into little snowballs or add little Santa hats. That would be so cute! They would also make great cat toys. Though I might just be a sucker for the Spherey.
Si asked me where I am going to put all these toys I've been knitting, and honestly I have no clue. My desk and shelves are getting overloaded with these creatures. I wish they weren't so fun to make!